Reality Check: Will Republican tax plan hurt Trump?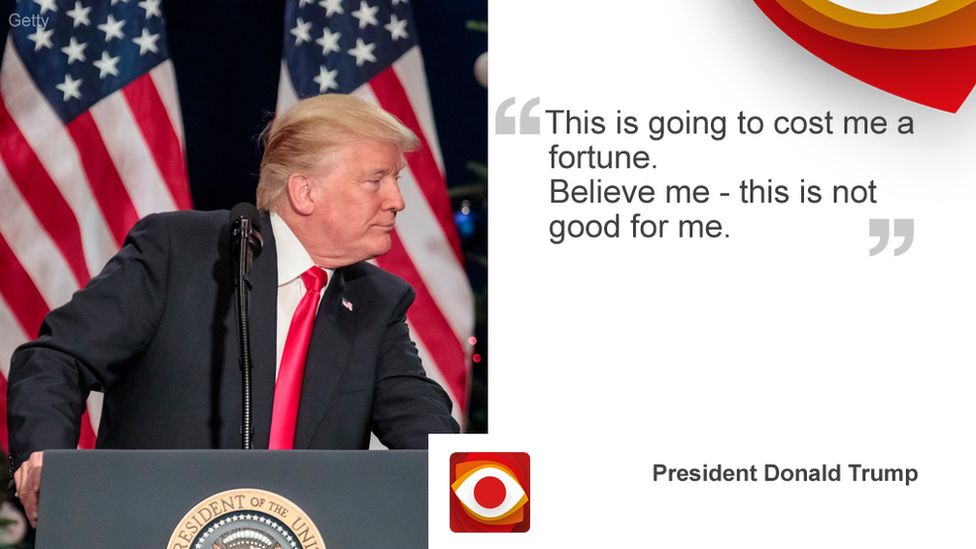 The claim: US President Donald Trump will not benefit from a Republican tax plan that has been passed by the US senate - and he might even have to pay more.
Reality Check verdict: It is difficult to see how the president would have to pay more under the proposed tax plan.
Mr Trump has pushed hard for the tax cuts, saying it is a "once-in-a-generation chance" for the nation.
At the same time, he has said that for him - personally - the new tax plan is not good news.
"This is going to cost me a fortune, this thing, believe me," he told his supporters in St Charles, Missouri, on Wednesday. "Believe me, this is not good for me."
We are one step closer to delivering MASSIVE tax cuts for working families across America. Special thanks to @SenateMajLdr Mitch McConnell and Chairman @SenOrrinHatch for shepherding our bill through the Senate. Look forward to signing a final bill before Christmas! pic.twitter.com/gmWTny3SfS

— Donald J. Trump (@realDonaldTrump) December 2, 2017
He is the first president in more than four decades not to publicly release his tax returns while running for office.
But from what we know about the structure of his businesses, Mr Trump actually stands to benefit from his party's tax plan.
Daniel Shaviro, a taxation professor at NYU's Law School, points to aspects of the Senate tax bill that would help the president.
First, there are changes in the estate tax and lowering the so-called "pass-through" rates on businesses.
The "pass-through" tax rates affect income derived from partnerships and companies that are known as limited liability.
The president owns hundreds of these kinds of businesses and would benefit from a redesign of this tax code.
The repeal of the alternative minimum tax would also be hugely beneficial to Mr Trump, say analysts.
In the end, said Mr Shaviro, the president would find himself in a dramatically different situation, one that many other US taxpayers would envy.
Mr Shaviro said the president would come out better than many people in the US.
"A 28-year-old associate with a New York City law firm will pay taxes at a higher rate than he will," said Mr Shaviro.
One area where Mr Trump could find himself out of pocket is the Republican proposal to eliminate a federal income tax deduction for state and local taxes.
But it may be a small price for him to pay in light of the other goodies in the tax plan.