Bears Ears: Inside the fight for Utah's contested national monuments
By James Cook
BBC News, Bears Ears, Utah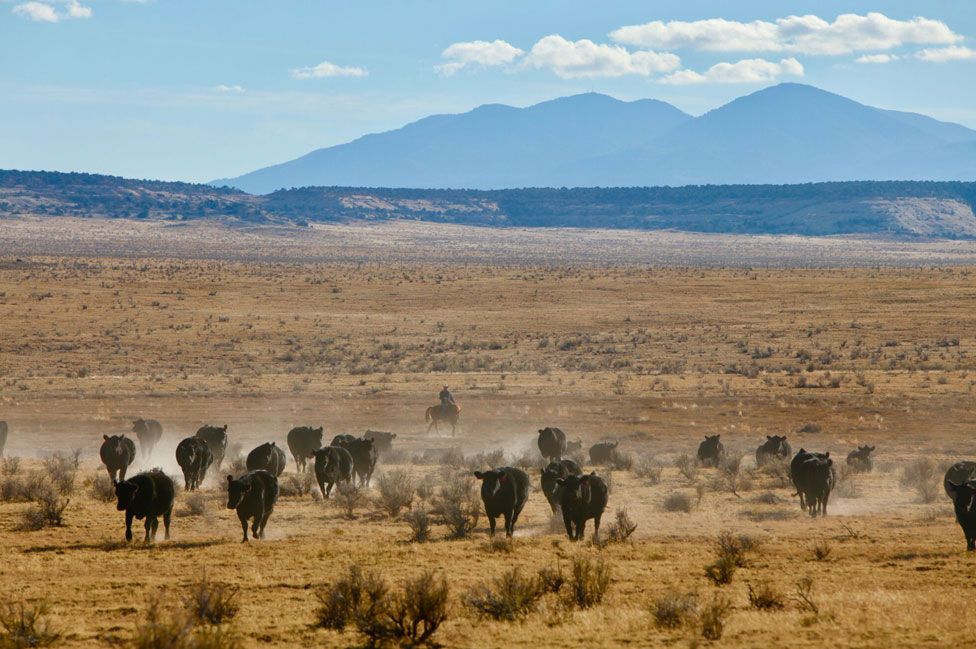 Nothing on Earth prepares you for the Valley of the Gods - it looks like another planet, an alien landscape etched in ochre.
This is not Mars but Utah, the heart of the Bears Ears National Monument, a nature preserve designated just 12 months ago by Barack Obama, in the dying days of his presidency.
Critics say that the status curtails the freedom to graze cattle and to hunt.
Bruce Adams, a cattle rancher whose family have lived here for generations, thinks it's unfair and unnecessary.
"We live in a county that's five million acres big," he says. "Ninety-two percent of that county is under federal control. We only have 8% private property. So in order for us to survive as citizens here we have to have access and use of the public property."
Environmental groups have claimed that the national monument designation is vital to prevent drilling and mining in this pristine land, a claim which infuriates Mr Adams, who is also a local politician representing the county.
"It makes me angry," he says, holding the halter of his chestnut horse, Cheyene. "In fact I get really angry about it because I live here. I know what's going on. And those are not true statements that the environmental community is making… it is just basically lies."
The rancher has been fighting for years for "states' rights", a popular rallying cry in the American West where federal control is often the source of deep resentment.
Now, he has found a champion.
"I am just so grateful to President Trump because he's not your ordinary politician," says Mr Adams.
"He believes in rural people. He believes in local decision making. He believes in states' rights. He's my kind of guy and I am so grateful that he's president of the United States right now."
This weekend Mr Adams was joined by more than 200 people in the small town of Monticello to thank the president for his decision to dramatically shrink the protected area of Bears Ears and another monument in Utah - Grand Staircase-Escalante - which was designated by another Democratic president, Bill Clinton, in 1996.
Monticello sits in San Juan County which residents say is one of the poorest in the United States.
Some here, like Merri Shumway, do see an opportunity opening up to mine for uranium or drill for oil and gas, although even she is cautious.
"There's not a company anywhere that's just going to drill everywhere, because it's too expensive," she says.
"We don't believe there's lots and lots of resources out there. But whatever there is we'd like to tap into through the permit system that the federal government has in place."
Ms Shumway is vice-president of the board of education for San Juan's schools and she hopes industrial development can improve the county's finances.
"It will provide the jobs we need and it provides the tax base to provide funding for public education and other government services that the community depends on," she says.
There may or may not be valuable resources under the land here but there are certainly treasures above ground.
Artwork scratched into the rock may date back more than 10,000 years. Some archaeologists say one panel depicts a woolly mammoth.
Evidence of early habitation is scattered over the vast area of the Bears Ears monument - which is named for a twin pair of distinctive buttes - with many dwellings well-constructed and well-preserved.
After a trek along a small canyon, kicking up red dust among the pungent sage brush, we visit what would have been a family home built into the shelter and relative safety of a cliff-face.
Hollows worn into a boulder show where the occupants probably ground corn. A corn store and a hearth are still standing.
But there is also evidence of looting, which has been a problem for many years.
In 2009 armed federal agents raided homes in the nearby town of Blanding and confiscated looted artefacts in a scandal which led to prison sentences, suicides and intense resentment of Washington DC.
As a percentage, the federal government owns more land in Utah - around two thirds - than in any other contiguous US state, except for Nevada.
The struggle to protect sacred sites has produced an alliance of sorts between the Navajo tribe, now a minority in this mainly Mormon state, and the federal government.
"The Mormons came into this area in 1879," says Mark Maryboy, whose great-great-grandfather was a Navajo chief.
"Since the day they came it's been destruction, destruction, looting, looting, looting."
Mr Maryboy is scornful of Mr Trump, suggesting he is mentally ill.
"This is a struggle since the day the white people came here," he adds.
Several organisations have joined the Native American tribes in fighting against the decision to scale back the national monuments. And thousands gathered in Salt Lake City this weekend to voice their opposition to any attempt to change the designation of the parks.
Josh Ewing, who is executive director of a local conservation group called Friends of Cedar Mesa, takes us on an aerial tour of the area on a small plane which itself is run by another campaigning organisation, EcoFlight.
Mr Ewing says the president is implementing "the largest decrease in protection lands in American history".
One of the dangers, he says, is that the publicity will result in a flood of visitors without any resources in place to manage them.
There is a risk of Bears Ears being "loved to death," he warns.
Less than a year ago he was celebrating when Mr Obama designated this area as a national monument. Now he calls the motivation for scaling back the monument designations "pure unadulterated politics" designed to undo the Democratic politician's legacy.
"This isn't about protecting resources on the ground. It's probably even less about oil and gas development. Because with the price of oil right now they're not going to be exploring in a remote place like this.
"So yes there is potential for oil and gas here but I really think this comes down to anti-federal government ideology and political favours getting called out."
The state's Republican senator Orrin Hatch had campaigned hard against the national monument designations. He is said to have whispered in Mr Trump's ear "what are you going to do about Bears Ears" every time they met.
In many ways this decision has become an ideological struggle about who owns and who controls land in the American West.
President Trump's fans say his approach gives power to the people. But his opponents maintain it is cultural vandalism.