Tennessee students hold protests over racist messages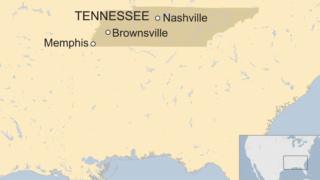 Students in Tennessee have protested against what they say is a lack of action by school leaders after racist threats circulated on social media.
One of the posts, which were allegedly exchanged between students, used racist slurs and referenced "stringing up" black people.
Those responsible were ordered to write a 10-page essay as punishment, according to the students.
The local school board says it is investigating the posts.
Around 200 students held a sit-in protest over the response at the school on Monday, with more staging a walkout, local media reported.
One of the organisers, Malik Green, told local news channel WREG Memphis he felt school administrators had tried to sweep the matter "under the rug".
"We just can't stand for it anymore and we needed to take action." Mr Green said.
Angelina Ferrer, who skipped her classes to participate in the protest, told Buzzfeed News that she felt the alleged sanction that the students were handed was not severe enough.
"We will not stop until we get justice with the school school system," she said.
Officials have not confirmed whether the accused students were made to write an essay.
Haywood County Schools Superintendent Joey Hassell said he had "authorized an in-depth investigation into allegations of social media posts concerning Haywood High School".
"Hatred, racism, and bigotry have no place in our school district," he added.