John Conyers announces retirement amid sex harassment claims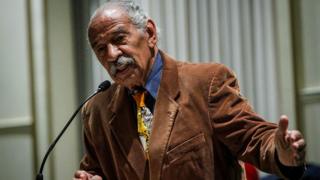 Michigan lawmaker John Conyers, who is facing claims that he sexually harassed former aides, has said he will retire from the US House of Representatives.
Last month the 88-year-old admitted to settling a wrongful dismissal complaint in 2015 with a former employee who claims he sexually harassed her.
More women have come forward to accuse Mr Conyers of sexual misconduct, but he denies any wrongdoing.
He said he will endorse his son, John Conyers III, to replace him.
"My legacy can't be compromised or diminished in any way by what we're going through now. This too shall pass," he told local Detroit radio host Mildred Gaddis in a phone call on Tuesday.
"I want you to know that my legacy will continue through my children. I have a great family here and especially in my oldest boy, John Conyers III, who incidentally I endorsed to replace me in my seat in Congress," he added.
Mr Conyers' great-nephew, Michigan state Senator Ian Conyers, had earlier told US media he would seek the embattled lawmaker's seat. It was unclear if the 29-year-old still planned to run.
The announcement came a day after another woman who previously worked for the congressman accused him of groping her.
The allegation made by Elisa Grubbs, who worked for Mr Conyers for more than a decade, was revealed in a sworn legal statement released by her lawyer.
She said on Monday that the congressman has slid his hand up her skirt as the two sat in church together.
Mr Conyers, a founding member of the Congressional Black Caucus and the longest serving current House member, has faced increasing pressure to resign after it was first revealed last month that he agreed to settle a sexual harassment case with a former employee.
He acknowledged the 2015 payment of $27,000 (£20,000), but denied misconduct.
Top Democrat and House Minority Leader Nancy Pelosi and her Republican counterpart, House Speaker Paul Ryan, have both called on Mr Conyers to step aside.
His former deputy chief of staff also came forward with claims that he had groped her and repeatedly propositioned her for sex.
Last month Mr Conyers stepped down from his post as the ranking member of the powerful House Judiciary Committee following the allegations. The House Ethics Committee has also launched an investigation into Mr Conyers.
Mr Conyers, who represents the Detroit area as a Democrat, first won election in 1964 after working as a civil rights campaigner.
He returned to his home district last week, where he checked himself into hospital for what family representatives said was a stress-related illness.
More than 100 supporters rallied at a church in Detroit on Monday to encourage Mr Conyers to resist calls from him to step down.