Ex-Trump strategist Steve Bannon rails against Republicans in Alabama
Former Trump chief strategist Steve Bannon has lashed out at Republican leaders during a campaign speech in Alabama for Senate candidate Roy Moore.
Mr Bannon attacked the party's 2012 presidential nominee Mitt Romney after he criticised Mr Moore on Twitter.
He said Mr Romney, who has been a vocal critic of Mr Moore, "hid behind" his Mormon faith to avoid the Vietnam War.
Mr Moore regained party support after briefly losing it over child sex abuse allegations. He denies the claims.
The rally came a day after the Republican National Committee renewed its support for Mr Moore and President Donald Trump officially endorsed him.
"You hid behind your religion. You went to France to be a missionary while men were dying in Vietnam," Mr Bannon said of Mr Romney in Fairhope, near the city of Mobile.
"Do not talk about honour and integrity," Mr Bannon said, referring to a tweet that Mr Romney had posted on Monday.
The former Massachusetts governor, who lost to former President Barack Obama in 2012, had written: "Roy Moore in the US Senate would be a stain on the GOP and on the nation."
Mr Bannon responded on stage: "You ran for commander in chief and had five sons - not one day of service in Afghanistan or Iraq.
"Judge Roy Moore has more honour and integrity in his pinky finger than your entire family has in its whole DNA," he said to a roar of applause.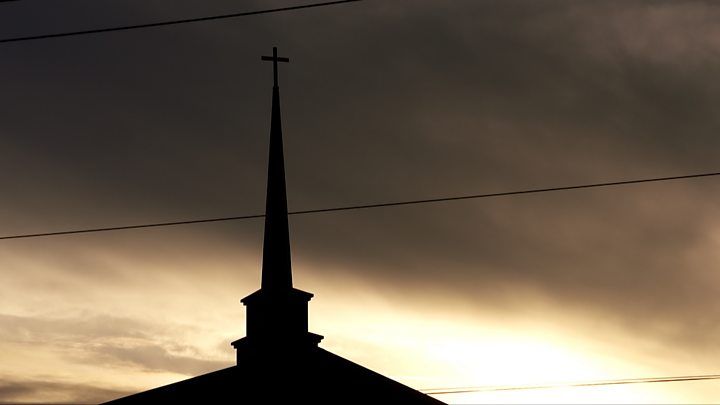 Mr Bannon also targeted Arizona Republican Senator Jeff Flake, a vocal critic of Mr Trump who donated to Mr Moore's opponent on Tuesday.
Mr Flake posted a photo of a personal cheque for $100 (£75) on Twitter.
"C'mon brother, if you're going to write a cheque, write a cheque," Mr Bannon said of the amount, before attacking the retiring senator over his approval ratings.
Mr Trump on Monday formally endorsed Christian conservative ex-judge Roy Moore, who has been accused of sexual misconduct by seven women.
According to the Washington Post, the president spoke about his decision to endorse the Alabama Senate candidate with Mr Bannon, who has rejoined right-wing website Breitbart News after leaving the White House in August.
---
Still standing
Analysis by Anthony Zurcher, BBC News Washington
There was a point, after the initial sexual misconduct allegations against Roy Moore roiled the Alabama Senate race, when it looked like Steve Bannon had made a terrible mistake. He had cast his lot in with Roy Moore, hoping to cement a populist-evangelical alliance that could dominate the Republican Party. Now, it appeared, the decision was coming back to haunt him.
The party establishment, which never liked Mr Moore and despised Mr Bannon and his efforts to unseat Republican Senate incumbents, would hang Mr Moore's scandal around the former White House adviser's neck and sink him to the bottom.
Mr Moore, however, is still standing - and may very well win his Senate race. The Republican National Committee, which had cut off financial support to Mr Moore, has reopened the spigots. Senate majority leader Mitch McConnell is backing away from his denunciations of the Alabama Republican. Donald Trump himself sings Mr Moore's praises, validating Mr Bannon's actions.
Now Mr Bannon is back on the attack, lashing out against Mitt Romney, Arizona Senator Jeff Flake and the other perceived defenders of the establishment. Alabama could have been Mr Bannon's undoing, but - barring a Democratic upset - it will only strengthen his power within the party.
---
Hours later, the Republican National Committee announced that it would resume fundraising for Mr Moore, who faces Democrat Doug Jones on Tuesday.
Seven women have come forward to accuse the former Alabama Supreme Court judge of sexual misconduct decades ago, including one woman who claims he molested her when she was 14 years old while he was in his 30's and working as an Alabama prosecutor.
Another woman alleges the judge had tried to rape her after he offered her a ride home from her job as a waitress.
Mr Moore has called himself the victim of a "witch-hunt", and on Tuesday referred to "fake news".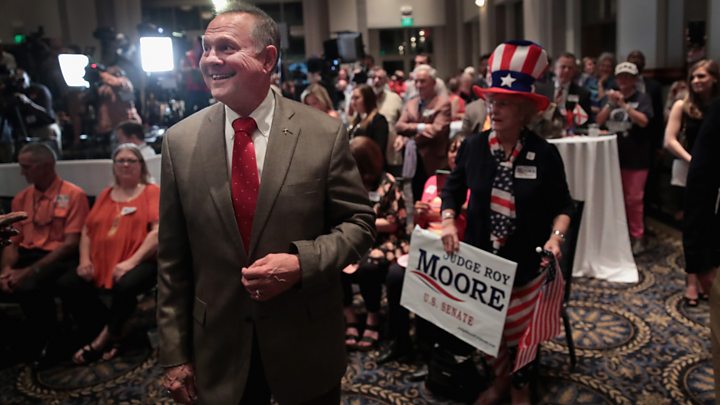 "I think they're afraid I'm going to take Alabama values to Washington," Mr Moore told the crowd of supporters.
"And I want to tell you, I can't wait."