US House votes to expand concealed carry gun rights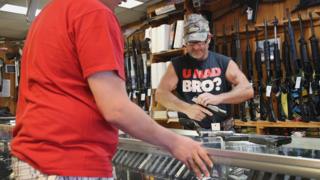 The House of Representatives has voted to allow gun owners to carry concealed weapons between states, accomplishing a decades-long firearms lobby goal.
The Republican-controlled chamber passed the bill by 231-198, in their first major gun legislation since a 2012 Connecticut school massacre.
Republicans said the bill would allow gun owners to travel without having to worry about conflicting state laws.
The measure will need a handful of Democrats' support to pass the Senate.
To make the Concealed Carry Reciprocity Act more palatable, Republicans have included measures to strengthen the national background check system.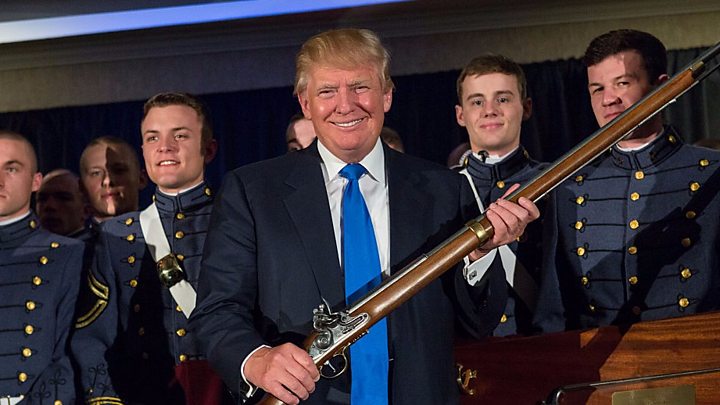 The legislation would also mandate a study of "bump stock" rapid fire devices, used in October's mass shooting in Las Vegas, Nevada.
Though Wednesday's vote in the House was largely along party lines, six Democrats crossed the aisle to back the bill.
Chris Cox, executive director of the National Rifle Association, hailed the vote as "a watershed moment" and the culmination of 30 years of lobbying.
But opponents said it would trample on laws in some states with tighter restrictions on carrying loaded guns in public, such as New York and California.
It would permit those with concealed-carry certificates to bring a gun into any state that allows concealed weapons, even where the standards for granting such permits vary widely.
Supporters of the legislation say those who have concealed guns are better equipped to defend themselves - and others.
Bob Goodlatte, a representative from Virginia and the chairman of the House Judiciary Committee, said that in 2015 a taxi driver with a concealed weapon shot and wounded a gunman in Chicago who was firing into a crowd.
He said the legislation would mean that a concealed-carry permit would become like a driver's licence in that it would be valid in any state.
Ed Perlmutter, a Democrat from Colorado, said the bill was an attempt to restrict the rights of states with tighter gun controls.
"Georgia has no business, no right, to tell Colorado what its laws should be," Mr Perlmutter said.
The representative for a Connecticut district containing Newtown, where 26 people were shot dead by a gunman in 2012, said the bill would endanger public safety.
Congresswoman Elizabeth Esty said the legislation would "hamstring law enforcement and allow dangerous criminals to walk around with hidden guns anywhere and at any time".