California wildfires reach Bel Air and Getty museum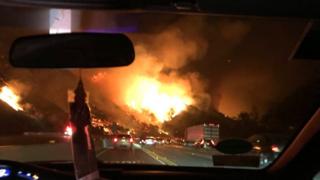 Raging wildfires in California are threatening parts of the Bel Air area and Interstate 405, a major north-south highway in southern California.
The Santa Ana winds are being blamed for spreading the inferno close to the cultural attraction, the Getty Center arts complex, and UCLA, causing major traffic disruption on Wednesday morning.
The fires closed the freeway through the Sepulveda Pass as Los Angeles Mayor Eric Garcetti tweeted the areas affected.
Many people shared images and video on social media on their commute to work showing the fires dangerously close to traffic.
A number of schools remain closed and The Getty Center also tweeted an update to confirm they would not be opening their doors for visitors.
Some 27,000 residents have been forced to evacuate in southern California. In the north of the state, several thousand homes are under mandatory evacuation in the cities of Ventura and Santa Paula.
Firefighters warned the fire was moving so fast they were unable to contain it.
More than 1,000 firefighters are now battling the blaze, which has burned 45,500 acres.
By Rozina Sini, BBC's UGC and Social News Team