Canada snubs Boeing in fighter jet deal with Australia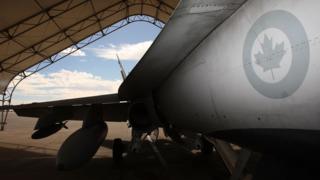 Canada is looking to purchase an interim fleet of used fighter jets from Australia until it can replace its own ageing CF-18s fighter jets.
The move scraps an earlier plan to buy 18 new Boeing Super Hornet fighter jets as its so-called stopgap purchase.
It also warned that any bidders for the contract for 88 new aircraft must cause no "economic harm" to Canada.
The clause is an apparent snub to the US-based Boeing, which has targeted a Canadian rival firm in a trade dispute.
"Bidders responsible for harming Canada's economic interests will be at a distinct disadvantage," said federal Public Works Minister Carla Qualtrough on Tuesday.
US aerospace firm Boeing is involved in a high-profile trade dispute with Canadian competitor Bombardier over government subsidies.
Last year the Liberal government said it would explore buying 18 new Boeing Super Hornet fighter jets, closing the "capability gap" in Canada's air power as it seeks a permanent replacement to its CF-18s jets.
But in September, Canadian Prime Minister Justin Trudeau threatened to cancel the purchase of Boeing Super Hornets from the US in retaliation over the Bombardier trade dispute.
The procurement process to replace the 30-year-old fleet of CF-18s has been rife with problems and politics.
The former Conservative government originally intended to buy 65 Lockheed Martin F-35s, with deliveries slated to begin in 2016.
But the country's auditor general criticised the sole-sourced procurement process for the fighters in 2012.
The contract with US company Lockheed Martin was signed without a competitive bidding process, drawing ire from opposition parties at the time.
In the last federal election campaign, the Liberals unequivocally ruled out buying the stealth F-35 bomber for the Royal Canadian Air Force.
But the Liberals have had a reversal on the F-35s, and Lockheed Martin, which helped develop the aircraft, will be allowed to compete for the contract.
Canada will begin the formal bidding process for the new jets in 2019 for delivery in 2025.