US woman charged for stealing 'OK to be white' speech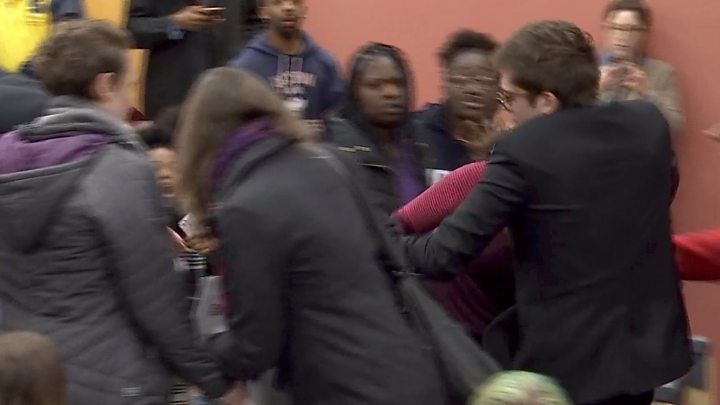 Police have charged a woman with attempting to steal a conservative commentator's notes during his speech at the University of Connecticut.
Video shows Catherine Gregory, 33, removing notes from the podium where Lucian Wintrich spoke during an event entitled, "It's OK to be White".
Mr Wintrich was arrested after chasing the woman and grabbing her, but the charges have since been dropped.
Her lawyer says she was protesting the speaker's "hateful, racist statements".
Mr Wintrich, a White House correspondent for right-wing blog the Gateway Pundit, appeared at a hearing on Monday at the Superior Court in Rockville, where the charges against him were dismissed, according to the Hartford Courant.
Ms Gregory, the director of career services at Quinebaug Valley Community College, turned herself in on Sunday after she was informed of the charges against her.
In a charging document, police say her actions "led to the physical disturbance" during Mr Wintrich's speech after she "attempted the theft" of his papers.
The university where Ms Gregory works said last week they had removed a photo of her from their website after she began receiving emailed death threats.
She was released by University of Connecticut police after posting a $1,000 (£750) bond.
On Wednesday she will face charges of attempted sixth-degree criminal larceny and disorderly conduct.
The 28 November event attracted over 100 protesters and prompted the university to change their guidelines for guest speakers.