Ruling clears way for US transgender recruits in January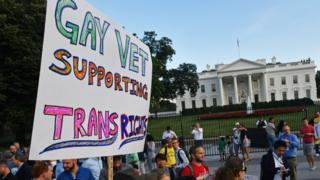 A US federal judge has ruled that transgender people must be admitted to the military from 1 January.
The ruling is yet another blow to US President Donald Trump's plan to ban transgender people from the military.
The Pentagon says it will abide by the ruling.
The Pentagon was supposed to start accepting transgender recruits on 1 July according to an Obama-era policy, but that was pushed back to 1 January by Secretary of Defense James Mattis.
Judge Colleen Kollar-Kotelly, a US district judge in Washington DC who also blocked the ban in October, ruled on Monday that the government could not prove it would be "irreparably harmed" if the military began to accept transgender men and women.
'My stomach dropped': Transgender troops hit hard by Trump ban
Mr Trump's plan to ban transgender individuals from serving was originally announced in a series of tweets in July, and then backed by an executive order.
Mr Trump said the country would no longer "accept or allow" transgender Americans to serve in the military, citing "tremendous medical costs and disruption".
The secret life of a transgender airman
This triggered a series of legal suits, including by transgender people already serving in the armed forces.
After Monday's ruling, Pentagon spokesman David Eastburn said the military was "planning to prepare" for transgender people to join the military from 1 January.
The White House deferred to the Department of Justice, saying they were "currently reviewing the legal options to ensure that the president's directive can be implemented".