Texas teenager accused of terrorism plot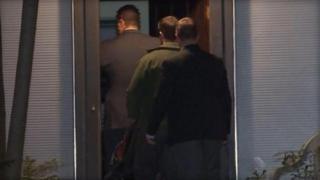 A Texas teenager has appeared in court charged with illegally supporting so-called Islamic State and sharing bomb-making tutorials on the internet.
Kaan Sercan Damlarkaya, 18, was arrested on Friday following an undercover FBI operation, said the US Justice Department.
The US citizen, who remains in custody, told undercover agents he had planned to travel overseas to fight for IS.
The suspect lives with his parents and older brother, say court documents.
Undercover agents began communicating with Mr Damlarkaya online in August.
During those conversations he voiced his desire to travel abroad and fight for IS or, if unable, to commit an attack in the US.
The statement also says the suspect supplied his online followers with a formula for an explosive, and instructions on how to use it with shrapnel in a pressure cooker.
He also allegedly provided instructions on how to build an AK-47 or AR-15 assault rifle from readily available parts in order to evade detection from authorities.
"If I buy a gun or supplies for a bomb, they [presumably law enforcement] will heat up pressure [j]ust like a few months ago when I was trying an operation but they found out," Mr Damlarkaya said in November, according to court documents.
If convicted, he faces a possible 20 years in prison.