Dog lost on Alaska Highway found with help from 'St Nick'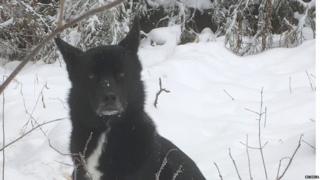 Yukon the dog has been united with his family after being lost in northern Canada for three weeks.
The husky mix had been travelling with his owner Jeff Hayes, an officer in the US Army moving from a military base in Alabama to one in Alaska.
Yukon escaped near a rest stop on the Alaska Highway near Fort Saint John, British Columbia, on 9 November.
But he was reunited with his family in time for Christmas with a little help from "St Nick" the lorry driver.
Nick Stoneburgh earned the festive moniker because of his white beard.
But he also made a Christmas wish come true for Mr Hayes' son, Josh, by bringing Yukon home.
After Yukon slipped his collar and dashed into the woods, Mr Hayes searched for more than two hours, giving up because of bad weather.
Mr Hayes asked for help from the British Columbia Society for the Prevention of Cruelty to Animals (SPCA).
More like this:
Soon, the whole community of Fort Saint John was out searching for the runaway canine.
It took two weeks before they found the pesky pet and a vet could tranquillize him.
He was uninjured but a little dehydrated, the SPCA said.
A volunteer helped connect the dog with Mr Stoneburgh, who agreed to drive to meet Yukon's owners where they had by now settled in North Pole, Alaska.
The dog was finally reunited with the Hayeses in the Yukon on 30 November.
The family "was overwhelmed with everyone's kindness and compassion and called it a Christmas miracle", the SPCA.