Rabbit dramatically rescued from California wildfire on the mend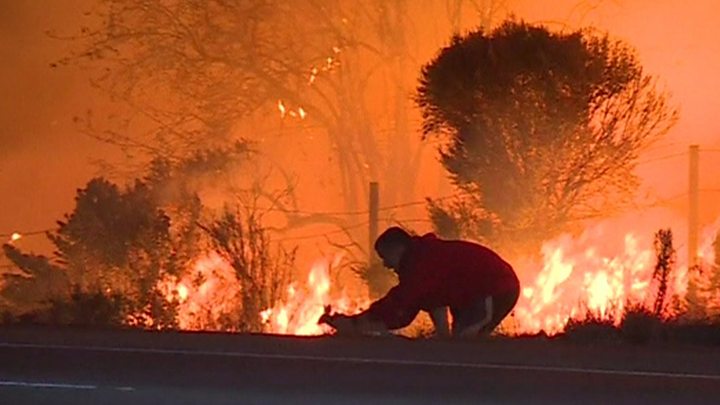 Vets treating a wild rabbit dramatically rescued from California wildfires say they expect it to make a full recovery.
The moment a motorist stopped to catch the terrified animal was captured on video and the footage shared around the world.
The rabbit was taken to the California Wildlife Center, in Malibu, where it was treated for burns to its paws, ears and chin. Its fur had also been singed.
The centre's Jennifer Brent said it seemed to be doing very well after being given pain medication, antibiotics for the burns on its ears and treatment to help rehydrate.
"She's definitely improving, and we're hoping for the best," said Ms Brent
"She's had a good appetite throughout though, and she's been given kale, lettuce and carrot tops so she's had plenty to chose from."
The centre received lots of calls from people asking to adopt the rabbit but always intended to release it back into the wild.
The rabbit was found on Highway 101 in La Conchita but because of the fire damage cannot return there.
"As rabbits are not particularly territorial, she can be put back in a different area where there is plenty for her to eat," said Ms Brent.
"She can also go back on her own, as adult rabbits don't need to live in family groups.
"If she was still a baby, she'd need lots more care."
You might also like:
The rabbit was one of only two animals taken to the centre as a result of the fire.
Ms Brent said most of the ground-living animals such as rabbits and squirrels would not have been able to escape whereas birds would have been able to get away.
About 94,000 residents have been displaced by the California fires, which have been burning for more than a week.
The Thomas Fire in Ventura and Santa Barbara counties has consumed 234,000 acres (950 sq km) in just over a week, destroying 900 properties, including 690 homes.
It has become the fifth largest wildfire in recorded state history.
By Annie Flury, UGC and Social News team