Roy Moore defeat: Republicans ponder 'humbling' result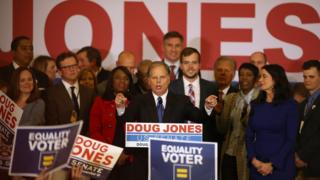 Democrat Doug Jones's victory in the Alabama senate election has left Republicans rethinking the direction of their party.
Social media reaction on the right was starkly divided following the vote, as many leading Republicans distanced themselves from Roy Moore, whose candidacy was plagued by allegations of child sex abuse.
He denied the allegations but for some they were serious enough for them to go against their party and support Mr Jones.
Senator Jeff Flake, a Republican senator from Arizona who says he is not seeking re-election, donated $100 (£75) to Mr Jones's campaign, and responded with a simple message after Mr Jones won.
Sarah Palin, the former governor of Alaska, said the Democratic victory proved a "humbling night" for the Republican party.
Despite campaigning for Mr Moore for weeks, US President Donald Trump congratulated Mr Jones on his win, and followed it up with a tweet distancing himself from Mr Moore's defeat, claiming, "Roy worked hard but the deck was stacked against him!"
As of Tuesday night, Mr Moore had refused to concede, saying "it's not over".
Several Republicans encouraged him to concede.
The former governor of Arkansas, Republican Mike Huckabee, urged Mr Moore to "exit with class."
"In elections everyone does NOT get a trophy," he said.
Meanwhile, Democrats celebrated the victory across social media.
New Jersey Democratic representative Bonnie Watson Coleman applauded black women for securing the victory.
Black women voted overwhelmingly for Mr Jones, with only 2% voting for Mr Moore.