Omarosa Manigault Newman denies being dragged out of White House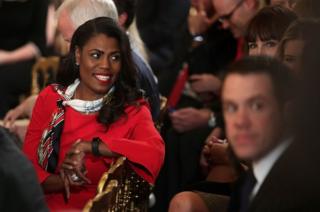 One of President Donald Trump's former aides has denied trying to storm the White House residence and being fired.
Omarosa Manigault Newman - a fiery former star of Mr Trump's TV programme, The Apprentice - reportedly tripped an alarm on Wednesday.
The Secret Service said it did not help in "the escort off of the complex", but did deactivate her key pass.
Ms Manigault Newman was one of President Trump's few high-profile African-American supporters.
The White House's official statement on Wednesday said she was leaving to "pursue other opportunities".
But an unnamed White House official told the Wall Street Journal that the aide had to be "physically dragged and escorted off the campus" after she was fired by chief of staff John Kelly.
CBS News reported that she tripped an alarm as she tried to march into the White House residence to challenge her dismissal, and had to be escorted away.
In an interview on Thursday morning, Ms Manigault Newman labelled those reports "a false narrative".
Appearing on ABC's Good Morning America, she also denied claims she had been fired.
Ms Manigault Newman echoed the White House's official version that she was resigning in January on the anniversary of Mr Trump's inauguration.
The former reality TV star, who appeared on the first season of The Apprentice, questioned why there was no photographic evidence of the alleged White House dust-up.
"Where are the pictures or videos?" she asked.
"If I had confronted John Kelly, who is a very formidable person, it would garner enough attention for anyone in the room to at least take a picture or video or something," she added.
In a carefully worded statement, the Secret Service denied their personnel were involved in Ms Manigault Newman's "termination".
But the agency tasked with guarding the president seemed to confirm that she had been removed from the White House complex.
Ms Manigault Newman said the report she tried to enter the president's residence was "absurd".
"It's ridiculous to assert that anyone would be able to violate the security parameters that are outlined in the most secure building in the world," she added.
Ms Manigault Newman also rejected suggestions that her role in the Office of Public Liaison was vague and ill-defined.
She said she will have "quite a story to tell".
"I've seen things that made me uncomfortable, that have upset me, that have affected me deeply and emotionally, that has affected my community and my people," she said.
She added: "It's a profound story I know the world will want to hear."
When Mr Trump was asked about her departure on Thursday, he responded: "I like Omarosa. Omarosa's a good person".
During her tenure, she attracted controversy several times, including once when she brought a wedding party to the White House for an impromptu photo shoot, according to Politico.