Teen activist Autumn Peltier who scolded Trudeau to address UN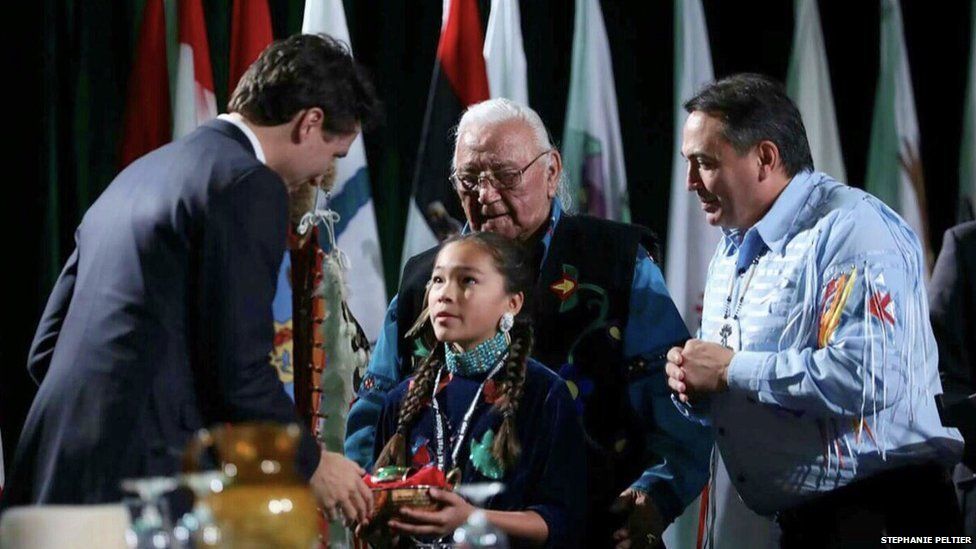 At just 13 years old, Autumn Peltier has become an internationally known advocate for water protection, especially for Canada's indigenous people. What's next? The United Nations.
A year ago, Autumn found herself face-to-face with Justin Trudeau at the Assembly of First Nations' annual winter meeting. She had been chosen to present the Canadian prime minister with a ceremonial copper water bowl to symbolise his responsibility to protect the country's water.
But instead of being star struck, the teenager spoke her mind.
"I am very unhappy with the choices you've made," she said.
As prime minister, Mr Trudeau has supported a number of pipeline projects, drawing sharp criticism from indigenous and environmental advocates. There are also 100 First Nations communities in the country that have had a water advisory in place for more than a year, a national crisis that the government has promised to fix by 2021.
"I understand that," he said to her. "I will protect the water."
Although she says she doesn't know if he will keep his promise, she's glad she made her position clear.
"He knows what my concern is and he knows what he has to fix and protect," she told the BBC.
Autumn, who lives in Wikwemikong First Nation in northern Ontario, will get an even bigger audience next spring, when she will address the United Nations General Assembly in New York for the declaration of the International Decade for Action on Water for Sustainable Development.
Her journey to becoming an international water advocate began when she was just eight years old.
Inspired by her aunt, Josephine Mandamin, who walked the shores of all five Great Lakes to raise awareness for water conservation and indigenous water rights, Autumn began speaking at community events about the importance of protecting Canada's water.
Autumn is known for her passion and her poise, and has become an in-demand speaker at larger and larger events.
"Water is one of the most sacred elements in our culture because we use this water in ceremony," she explains.
"We need water to survive and live and that's literally the only reason we're here today is water."
She attended the Children's Climate Conference in Sweden, and has travelled across the country advocating for protecting Canada's drinking water.
In 2016, she was the only Canadian to be nominated for the International Children's Peace Prize.
She didn't win but says she feels fine about the outcome, "because I know that there's other children out there doing great work as well".
"I just tell myself it's okay if you don't win, because this award isn't going to stop you from doing the work you're doing. I'm going to keep doing my work until the water's clean."
Autumn is in high demand, and she often has to turn events down just so she can have a normal childhood.
"She's so busy," says her mother, Stephanie Peltier.
When she is not travelling the world, Autumn is a regular teenager who loves her pets, Instagram and making crafts with her friends -including bracelets she sells to raise money for a local community without clean water.
But she wants her future to be anything but ordinary. After going to university and law school, she has set her sights on Canada's top job.
"I want to be prime minister or minister of environment," she says.