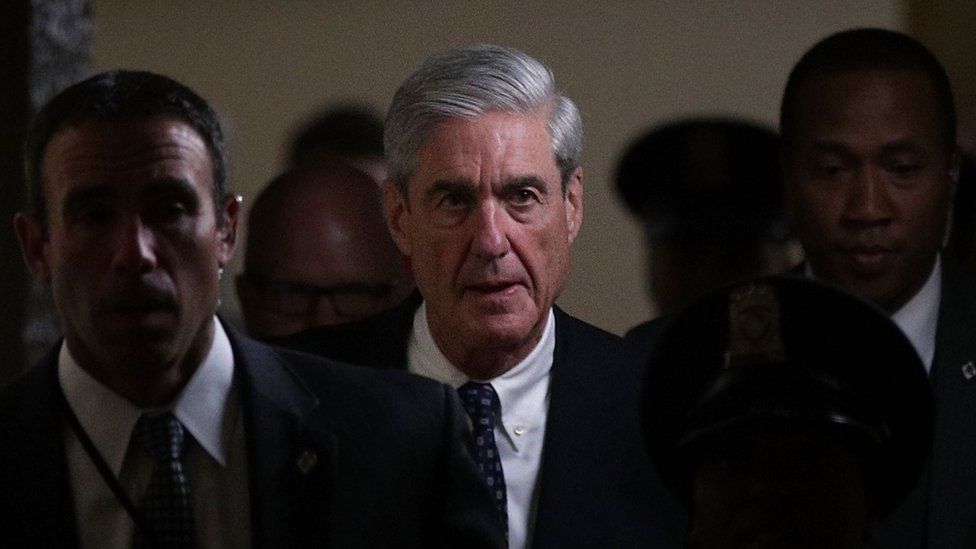 In recent weeks, conservative commentators and politicians have begun arguing, with growing intensity, that Robert Mueller's investigation into possible ties between the Trump campaign and Russia is the result of an intentional effort by biased investigators to undermine the Trump presidency.
There are a number of components to the case they are presenting, from doubts about the impartiality of Mr Mueller and his team to questions about the integrity of the FBI and the Obama-era Justice Department.
All of it could be setting the ground for new investigations into the FBI or Democrat Hillary Clinton's actions while secretary of state - something Mr Trump himself has suggested - or perhaps even for the president to order the end of Mr Mueller's probe.
Such an action would provoke a major political crisis and could have unpredictable consequences. For Mr Trump's defenders, it may be enough simply to mire Mr Mueller's investigation in a partisan morass. Here are some are some of the ways they're trying to do that.
Peter Strzok, a senior counter-intelligence agent in the FBI and until this summer a top member of Mr Mueller's special counsel team, has become Exhibit A of anti-Trump bias in the Russia investigation.
A Justice Department inspector general review of the FBI's handling of its 2016 election investigations unearthed text messages between Mr Strzok and Lisa Page, an FBI lawyer who also temporarily worked on the Mueller investigation and with whom Mr Strzok was having an extramarital affair.
Some of the messages, which were provided to reporters, showed the two had a hostility toward then-candidate Trump in 2016. Ms Page called Mr Trump a "loathsome human" in March, as the candidate was cementing his lead in the Republican primary field. Three months later - after Mr Trump had secured the nomination - Mr Strzok wrote that he was an "idiot" who said "bigoted nonsense".
In an August text, Mr Strzok discussed a meeting with then-FBI Deputy Director Andrew McCabe in which Ms Page apparently had mentioned there was "no way" Mr Trump could be elected.
"I'm afraid we can't take that risk," Mr Strzok wrote. "It's like an insurance policy in the unlikely event you die before you're 40."
Some have theorised that the "insurance policy" in question was an FBI plan to destroy Mr Trump if he were to win. Others have suggested that it was simply a reference to the need to continue working the Trump-Russia investigation even though his election seemed unlikely.
"It is very sad when you look at those documents," Mr Trump said on Friday, apparently referring to the texts. "And how they've done that is really, really disgraceful, and you have a lot of very angry people that are seeing it." He said it was a shame what had happened to the FBI and that it would be "rebuilt".
Since the first coverage of the story, reporters have reviewed more of the Strzok-Page texts and found the two made disparaging comments about a wide range of public figures, including Chelsea Clinton, Democrat Bernie Sanders, then-Attorney General Eric Holder, Republican presidential candidates Ted Cruz and John Kasich, and Mrs Clinton.
"I'm worried about what happens if HRC is elected," Mr Strzok wrote, referring to Mrs Clinton by her initials.
Why it could matter: If Mr Strzok, a high-ranking member of the FBI who officially launched the initial investigation of ties between the Trump campaign and Russia, harboured anti-Trump animus, there is the possibility it could have motivated him to influence the investigation to the president's disadvantage.
Why it might not: Government employees are allowed to express political views as long as they don't influence their job performance. The breadth of the Strzok-Page texts could indicate they were just gossiping lovers. Without context, Mr Strzok's "insurance" line is vague. When Mr Mueller learned of the text this summer, Mr Strzok was removed from the independent counsel investigation and reassigned to a human resources job.
Mr Strzok also figures prominently in Republican concerns about the FBI's handling of its investigation into Hillary Clinton's use of a private email server while she was secretary of state.
Mr Strzok took part in interviews with key Clinton aides and reportedly was involved in drafting the report that concluded Mrs Clinton's actions did not warrant criminal charges, including changing the description of her handling of classified material from "grossly negligent" - which might have suggested illegal behaviour - to "extremely careless".
During the campaign Mr Trump repeatedly insisted that the Justice Department should re-open its investigation into Mrs Clinton and, after backing away from the idea early in his presidency, has once again renewed those calls.
"High ranking FBI officials involved in the Clinton investigation were personally invested in the outcome of the election and clearly let their strong political opinions cloud their professional judgement," Republican Congressman Bob Goodlatte said during a House Judicial Committee hearing.
There's also the possibility that there were more communications between Ms Page and Mr Strzok about the Clinton investigation that have yet to come to light.
"We text on that phone when we talk about Hillary because it can't be traced, you were just venting [because] you feel bad that you're gone so much but it can't be helped right now," Ms Page wrote in one text.
Chuck Grassley, the Republican chair of the Senate Judiciary Committee, has said he wants more information about the use of these "untraceable" phones.
Why it could matter: If FBI agents backed off their investigation of Mrs Clinton in 2016 it could be further evidence of bias within the bureau that could affect its ongoing investigation into Mr Trump. If public confidence in the FBI is eroded, the ultimate findings of Mr Mueller's probe may be cast in doubt.
Why it might not: Lest anyone forget, Mrs Clinton's candidacy was the one wounded by FBI actions in the final days of the 2016 campaign. Then-Director James Comey's announcement of new evidence in the inquiry into her private email server - perhaps prompted by anti-Clinton leaks from the bureau's New York office - dominated the headlines and renewed concerns about the former secretary of state. News of the ongoing Trump-Russia investigation, on the other hand, didn't emerge until well after the election.
When it comes to the ongoing investigations into the investigations, it's not just the actions of the principals involved that have come under the spotlight. Spouses have figured prominently, as well.
FBI Deputy Director Andrew McCabe, the bureau's second-in-command, is married to Jill McCabe, a paediatrician who ran as a Democrat for a Virginia state senate seat in 2015 (before Mr McCabe was promoted to his current position). During the hotly contested race, Ms McCabe received $467,500 in campaign contributions from a political action committee controlled by Virginia Governor Terry McAuliffe, a close political ally of the Clinton family.
Conservatives contend that this donation should have disqualified Mr McCabe from involvement in the Clinton case - and was yet another example of possible anti-Trump bias in the FBI's Russia investigation.
"If Mr McCabe failed to avoid the appearance of a partisan conflict of interest in favour of Mrs Clinton during the presidential election, then any participation in [the Russia] inquiry creates the exact same appearance of a partisan conflict of interest against Mr Trump," Senator Grassley wrote in a letter to then-Director Comey in March.
Meanwhile, the wife of Associate Deputy Attorney General Bruce G Ohr was recently reported as being employed in 2016 by Fusion GPS, the political research firm that produced the dossier containing unconfirmed allegations of Mr Trump's Russia entanglements. Mr Ohr himself has been connected to Christopher Steele, the former British intelligence agent who collected the material for the dossier.
Fusion GPS's anti-Trump research efforts were originally funded by a Republican donor and later backed by groups associated with the Democratic Party and the Clinton presidential campaign.
Why it matters: "Power couples" - spouses with influential, complementary political jobs - are a Washington tradition, and the actions of one partner are often considered to reflect on the views and behaviour of the other. In Mr McCabe's case, his wife's Democratic activism and allegiances could shed light on his political sympathies. For Mr Ohr, his marriage could have served as a conduit to inject Democratic-funded opposition research into the Justice Department.
Why it might not: Having a political spouse is not evidence of official bias. The identity of the individuals or groups that funded and gathered anti-Trump research and how it ended up in government hands does not necessarily have a bearing on whether the information is valid or merits further investigation.
The individuals working on the Russia investigation have been billed as a "dream team" by Democrats and liberal commentators hoping the efforts will eventually topple the Trump presidency.
Many conservatives beg to differ.
In June, as details of the special counsel hires began to emerge, conservatives noted that some of the biggest names - Andrew Weissmann, James Quarles, Jeannie Rhee and Michael Dreeben - had given money to Democratic presidential candidates.
"Republicans are delusional if they think the special counsel is going to be fair," former Republican Speaker of the House Newt Gingrich tweeted. "Look who he is hiring."
Ms Rhee's private law work included representing Democrats, such as Obama Deputy National Security Advisor Ben Rhodes and the Clinton Foundation in a lawsuit brought by a conservative activist group.
Florida Republican Congressman Matt Gaetz recently travelled to Florida with Mr Trump and said he told the president that the independent counsel investigation was "infected with bias" against him - a view echoed in the conservative press.
"What we've seen over the past seven months of the Mueller investigation reveals a lot about how big government can end up becoming a threat to representative democracy," Laura Ingraham said on her Fox News programme. "And the more we look at the web of Clinton and Obama loyalists who burrowed into Mueller's office, the more obvious it all becomes."
Why it could matter: Political donations and legal work may be evidence of the ideological tilt of Mr Mueller's investigative team. That he has assembled a group of lawyers that may lean to the left could mean the investigation itself is predisposed to findings damaging to Mr Trump.
Why it might not: Investigators are adversarial by nature, and as long as Mr Mueller's team builds its cases with hard evidence, personal political views should not matter. While political partisans may focus on staff-level appointments, the investigation will rise and fall based on perceptions of Mr Mueller himself.
Prior to accepting the position as special counsel investigating possible Trump campaign ties to Russia, Mr Mueller requested - and received - an "ethics waiver" for possible conflicts of interest from the US Department of Justice.
The government has confirmed the existence of the waiver but has not revealed any details, although speculation at the time was that it had to do with Mr Mueller's work at the law firm WilmerHale, which represented former Trump campaign chair Paul Manafort - who Mr Mueller has since indicted on money-laundering charges - and the president's son-in-law, Jared Kushner.
Why it could matter: Without further information about the nature of the waiver, some are speculating that there is more to this request than simply routine ethical paperwork. Given that Mr Mueller is a former director of the FBI, with ties to many of the bureau officials who are now coming under conservative scrutiny, Mr Mueller's own allegiances are being called into question.
Why it might not: Mr Mueller is a decorated war veteran who, prior to taking the special counsel role was widely praised for his independence and probity. He was appointed FBI head by Republican George W Bush in 2001. If Mr Mueller's waiver had explosive details indicating clear bias, it probably would have leaked by now.