The miniature monkey that's a Christmas best-seller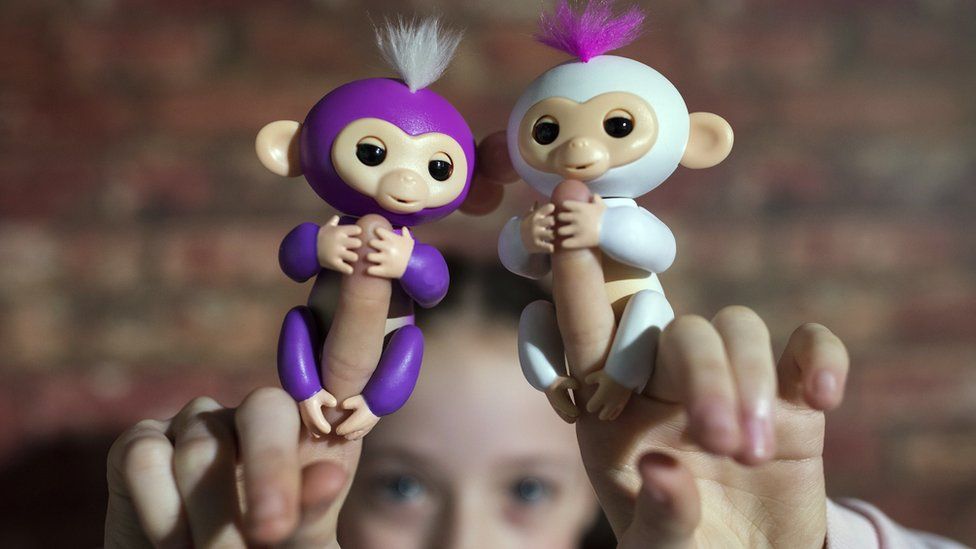 Every Christmas there's one toy that causes holiday mayhem - a must-have that seems almost impossible for desperate parents to get their hands on. But what goes into making a global best-seller?
The stakes will be high for parents whose children have Fingerlings on their holiday wish-lists as they head into the final weekend before Christmas.
The miniature chirping animatronic monkeys, inspired by the world's smallest primate - the pygmy marmoset - are one of this season's runaway hits and can be tough to find.
WowWee, the Hong Kong-based Canadian company behind the robotic toy, says Fingerlings were the brainchild of brand manager Sydney Wiseman, who saw the tiny primates online on a viral social media post and recognised a toy in the making.
WowWee's chief technical officer Davin Sufer says they knew they had a hit on their hands with the US launch of the interactive toy in August, after it was released in the UK and Canada in spring.
"Because of the UK launch and the buzz on social, there was almost pent-up demand for it in the US," he says. "So when it hit the shelves there was this huge blast of sales. And it kept going."
Fingerlings have now joined the ranks of Christmas crazes; from the 1983 Cabbage Patch Doll frenzy, the 1996 Tickle Me Elmo fever, to last year's Hatchimals mania.
"At some point we realised it was going to be a great success, but we didn't understand the scope," he says. "Every week we hit new records."
The decision to launch the toy early in the year allowed the firm to gauge the response before the holiday season began in earnest. It also sent young Youtube "influencers" banana pinatas filled with Fingerlings inside to create an online buzz.
"We wanted to create an untraditional unboxing experience and have influencers 'unbash' the Fingerlings from the pinatas," says Mr Sufer.
The little robot monkeys - there is also a sloth and a unicorn version - also earned spots on hot toy lists from major retailers like Amazon, Walmart, and Toys R Us, and made the influential UK's Toy Retailers Association top 12 list this year.
Richard Gottlieb, a toy industry commentator with Global Toy Expert, says getting a product on those lists is a "self-fulfilling prophecy" for a successful year.
But he compares a real Christmas toy craze to "an act of nature".
"It's just the right product at the right time. Something about it just grabs people at the right moment," he says.
"If you're looking at a toy that's a frenzy toy and one that's not, it's just magic."
Michelle Liem, toy industry analyst at market research firm NPD Group Canada, says a few elements go into making a top toy, from having an innovative new product to setting the right price point.
A product with "shareable moments" can also help make it a social media success.
Three of the products making waves this Christmas - Fingerlings, LOL Surprise and Hatchimals again - all have some of those components.
Davin Sufer credits the Fingerlings success to "the perfect combination of play, look, functionality and price point".
"Once we cracked the look and got the mechanism inside it, and we struck everything down to fit in this tiny little body, we knew we had something special," he says.
Richard Gottlieb calls Fingerlings "just a really great combination of high-tech and high-touch".
"It's cute and it's affordable and you can put it your pocket, bring it to school. That was always cool, the kids that had the toy in their pocket."
Each Fingerling retails for $14.99 or £14.99 - a price that makes it accessible for many to give as a gift.
But popularity comes with problems.
First there were fake Fingerlings; in November, WowWee was granted a temporary restraining order against 165 counterfeiters.
The firm also had to scale-up production to keep up with demand, and use more costly air freight to get the product to shops on time.
Ms Liem says that a production crunch can be tough for firms to navigate.
Orders are calculated on predictions made long before the Christmas rush for them to be shipped to stores in time. Being overly ambitious can mean being stuck with too much costly stock.
"The swirl builds and builds and builds, so by the time the swirl is so big you know you have a hit on your hands, all of those decisions have already been made," she says.
Davin Sufer also says Fingerlings success means there's pressure to recreate the success next year.
He says they'll build on the "collectability" of the plaything and expand the cast of creatures and characters.
More from the BBC's series taking an international perspective on trade:
Mr Gottlieb says dealing with success can be dangerous for firms, and that fads often fade away in about eight months.
He points to Hatchimals, by Toronto toy maker Spin Master, as an "exception to the rule" that remains a top seller despite struggling with inventory challenges in 2016.
"They ran into some problems with defectives, probably because there was a real hurry to get the product out the door and there was new technology involved with it," he says.
"But yet they've done a really good job of sustaining interest in [the product]."
Both WowWee and Spin Master have a track record of producing successful products, he says, and a toy craze always starts with a good product.
"But with all your hopes and dreams you can't make that happen. It's the people speaking."