Dellen Millard: Fun-loving heir whose killings stunned Canada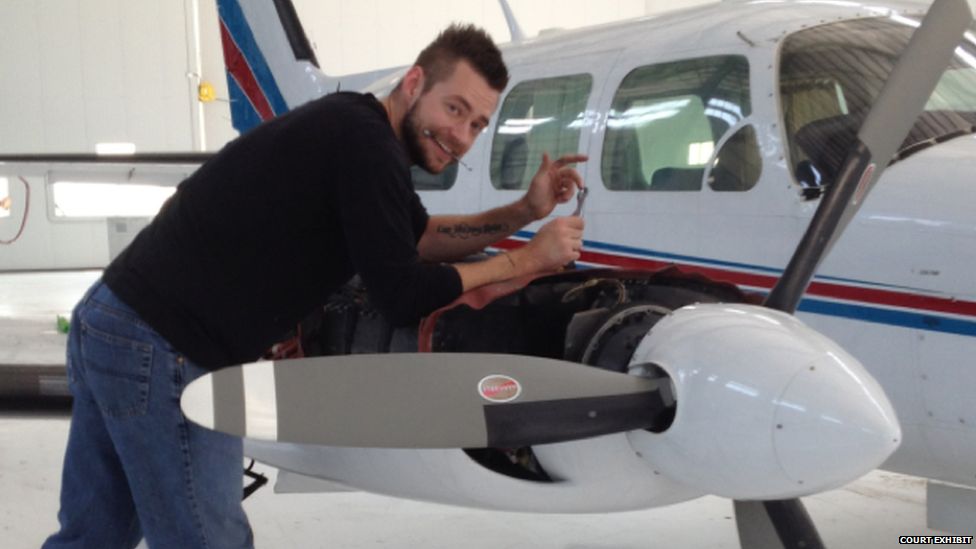 On Monday, Dellen Millard was convicted of shooting his father in the eye and making it look like a suicide. The judge's ruling marked the end of a long and deadly saga for Millard, who transformed from a millionaire heir to one of Canada's most notorious serial killers.
Dellen Millard was a man who liked the fast life.
At 14, he had set a record by becoming the youngest Canadian to fly solo a helicopter and an aeroplane on the same day.
By 27, he would own several million-dollar properties and a fleet of luxury cars.
Born in 1985 as the scion of a dwindling aviation dynasty, he spent his days working for his father Wayne.
On the weekends, he hosted pool parties at his luxurious McMansion in suburban Etobicoke and enjoyed offroad racing.
His seemingly breezy existence was not without its dark spots - his parents divorced when he was a teen, and in November 2012 his father was found dead in bed with a bullet wound in his head.
"He carried some great sadness with him throughout life that I never knew - he never wanted to share that with me," he told police the day after his father's death, which would be ruled a suicide.
But Millard's playboy persona came crashing down on 14 May 2013 when he was charged with first-degree murder for the death of Tim Bosma, a total stranger.
Soon, Millard found himself facing not one, but three separate first-degree murder trials, for the deaths of Bosma, his ex Laura Babcock and his own father.
If it was not for his truck, Bosma may still have been alive today and Millard may never have been charged with his father's murder.
The 32-year-old family man was trying to sell his diesel vehicle, and his wife Sharlene Bosma had posted an ad online.
The Bosmas had a two-year-old daughter and wanted to grow the family. Money was tight, and getting rid of the truck would ease their burdens.
On 6 May 2013, Millard and his friend Mark Smich arrived at the Bosma family home outside of Hamilton, Ontario, to take the truck for a test drive.
"Yes you should, because we want the truck to come back," she replied.
After he did not respond to her many texts and voicemails, Mrs Bosma reported her husband missing.
A social media campaign was launched, and soon the entire community was out looking for him.
On 8 May, Mrs Bosma gave a heart-wrenching news conference in which she pleaded for her husband's safe return.
"It was just a truck, a stupid truck," she said. "You do not need him but I do. Our daughter needs her daddy."
Four days later, police found Bosma's truck in a trailer on the property of Millard's mother.
The truck had been stripped, but gunshot residue and traces of his blood were found inside.
Millard and Smich were charged with first-degree murder for the death of Bosma.
Shortly after their arrest, police began to look into two other unsettling cases that shared one thing in common: Millard.
The first was the disappearance of Babcock, Millard's ex-girlfriend, who went missing in July 2012.
That summer, she was fighting with her parents over house rules, and she was couch-surfing with friends and escort clients, her friends told the court.
She and Millard had dated briefly in 2008-09, and may have continued their sexual relationship while Millard was dating Christina Noudga.
Noudga pleaded guilty in 2016 to obstructing justice and helping Millard destroy evidence in Bosma's murder.
She quarrelled with Babcock, who sent taunting texts to Noudga to claim she was still sleeping with Millard.
During Millard's trial for Babcock's murder, prosecutors alleged that Millard killed Babcock to get out of the love triangle.
Months before Babcock went missing, Millard texted Noudga to say: "First I am going to hurt her.
"Then I'll make her leave. I will remove her from our lives."
Millard did not act alone. At his side was always Mark Smich, who was also convicted of first-degree murder for the deaths of Babcock and Bosma.
It was Smich who went on the test drive in Bosma's truck, it was Smich who helped Millard plan Babcock's murder, the court heard. It was also Smich who provided an alibi for Millard the night of his father's death.
Unlike Millard, Smich came from a middle-class family and had a record for minor crimes like drug possession and driving under the influence.
He made his money from drug dealing, in which Millard also allegedly partook. The pair met in 2006 and bonded over video games and weed, the court heard.
The two also liked to steal things for the fun of it, from trees to construction equipment. By 2012, Smich was living in Millard's basement.
But by the time the two were charged with Bosma and Babcock's deaths, the friendship had soured.
They retained separate legal counsel and each said the other person was the one to shoot Bosma.
Millard inherited millions when his father died, but his assets were frozen once he was charged with his murder.
After being convicted of Bosma's murder in 2016, and facing another expensive trial for Babcock's murder in 2017, Millard claimed he was broke.
Although he had owned millions of dollars of property, he had transferred most of this portfolio to his mother after his arrest.
Denied legal aid by the judge, Millard took the unusual step of representing himself.
That is how, on the first day of the trial, Millard found himself standing across from Babcock's father, asking him what he knew about his daughter's life.
"This can't be easy for you, being questioned by me, considering I'm the accused. Does this make it extra difficult?" Millard pressed.
"No," Mr Babcock replied, determined to get through the exchange.
Millard had a strained relationship with his own father, the court would later hear.
He played the dutiful son in public, but in private he buckled under his father's expectations.
"He believed animal welfare was a humanitarian effort. He was a good man in a careless world. He was my father."
There was even talk the heir was going to be cut off because of his extravagant spending.
During the trial for his father's murder, the court heard how Millard wanted nothing to do with his father's new business venture, an aeroplane maintenance and repair business the elder Millard hoped would revive the lagging family legacy.
"The last time I spoke to him, I told him the company's financial troubles were his doing and that he was a failure," Millard wrote in a text that was presented in court. "Usually he tells me not to worry. But this time he said maybe I was right."
The night of his father's death, Millard said he was at his friend Mark Smich's house.
Millard was the one who "discovered" the body the next morning, but instead of calling 911 immediately he had called his mother, who had been divorced from his father for more than a decade.
Millard was also the one who told police about his father's depressive mood.
But phone records reveal he travelled back to his father's house hours before he said he found the body.
A gun purchased illegally by Millard was also found next to his father with Millard's DNA on it.
On Monday, after the verdict was read and Millard was declared a three-time murderer, the father of Laura Babcock addressed reporters outside the courtroom.
"It's been proven that not only the Bosmas and ourselves lost a loved one, the Millard family must live with the fact that this heinous individual murdered his own father. We feel for Wayne's relatives, save for one."
Both Millard and Smich were convicted of first-degree murder and given two consecutive life sentences for the deaths of Babcock and Bosma.
Millard awaits sentencing for his father's death; prosecutors will likely ask for another consecutive life sentence.
Canadian law forbids criminals from profiting from their crime. Since being convicted of his father's death, it is likely he will be disinherited.
It remains unclear what that means for a C$14m ($11m; £8m) lawsuit filed by the families of Bosma and Babcock.
3-4 July 2012: Babcock killed
5 July 2012: Millard receives a commercial incinerator called The Eliminator
29 November 2012: Wayne Millard is shot through the eye. His death is ruled a suicide
6 May 2013: Millard and Mark Smich kill Tim Bosma
14 May 2013: Millard charged with first-degree murder for Bosma's death
21 May 2013: Mark Smich charged with first-degree murder for Bosma's death
April 2014: Millard and Smich charged with first-degree murder for Babcock's death
April 2014: Millard charged with first-degree murder for his father's death
17 June 2016: Smich and Millard convicted of first-degree murder for Bosma's death
16 December 2017: Smich and Millard convicted of first-degree murder for Babcock's death
24 September 2018: Millard convicted of murdering his father