Canada and US set up talks on North Korea for January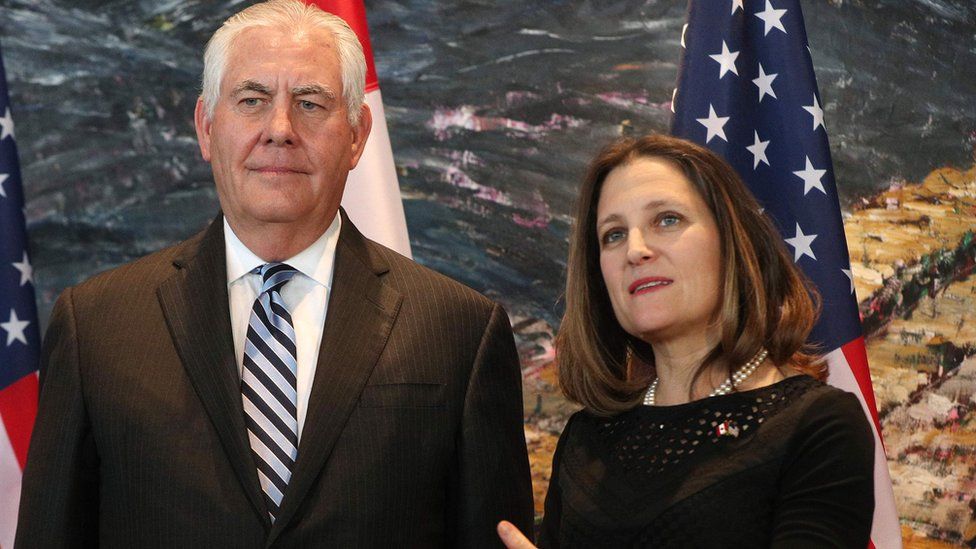 Canada and the US will co-host a meeting to discuss the deepening crisis over North Korea's nuclear ambitions.
US Secretary of State Rex Tillerson said the meeting would seek to improve the effectiveness of efforts to put pressure on North Korea.
The announcement came at bilateral talks with Canadian Foreign Minister Chrystia Freeland in Ottawa on Tuesday.
North Korea has carried out repeated nuclear and ballistic missile tests this year.
It has defied global condemnation and increasingly heavy international sanctions.
The foreign ministers' meeting will be held in Vancouver on 16 January.
It will include envoys from South Korea, Japan, India and Sweden.
"This pressure campaign will not abate, we will not be rolling any of it back," Mr Tillerson said.
"It will only be intensified as time goes by and it will remain in place until they agree to give up their nuclear weapons."
Ms Freeland said she believed the show of solidarity would be successful in demonstrating the international community was united in condemning Pyongyang's actions.
Canada believes a diplomatic solution to North Korea "is essential and possible", but that pressure will increase on the regime until the country's behaviour changes, she said.
Last week, Mr Tillerson said Pyongyang had to carry out a "sustained cessation" of weapons testing before any talks.