Amtrak Washington train crash: Investigators focus on speed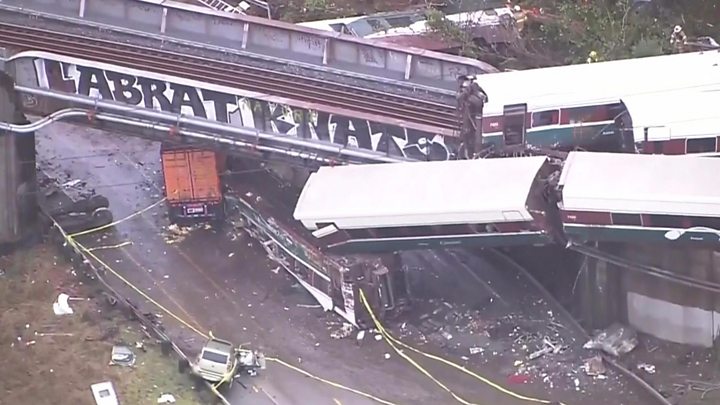 A US passenger train that derailed, killing three people, was travelling at 80mph (130km/h) on a curve with a speed limit of 30mph, data from the train's rear engine indicates.
It happened in Washington state during rush hour on Monday. Officials say 100 people were taken to hospital.
The train crashed shortly after leaving a new station on its inaugural run.
Two friends who are railroad enthusiasts were identified as among the fatalities on Tuesday.
Rail aficionado Zack Willhoite, 35, was identified by his employer Pierce Transit, who said the IT specialist "played an important role in our agency".
The National Association of Railroad Passengers identified board member Jim Hamre as another victim.
"He was a dedicated passenger rail advocate doing what he loved to do. Riding trains, promoting travel and making friends", club president Peter LeCody wrote on Twitter.
Authorities said all carriages had now been searched, but would not rule out a rise in the number of dead.
A spokeswoman for the National Transportation Safety Board (NTSB) said investigators had arrived at the scene on Monday night local time and would probably be there for a week or 10 days.
Bella Dinh-Zarr said the 12-carriage train had engines at the front and rear. The back engine's data recording had been retrieved, she said, and "preliminary indications are that the train was travelling at 80mph on a 30mph track".
"Our hearts go out to everyone who is affected by this very tragic accident," she said, adding that the train's engineer had not yet been interviewed but will be in "within the next day or so".
Warning signs
Passengers say the train rocked and creaked as it took the bend fast before barrelling off a bridge on to a motorway packed with traffic.
Seven vehicles, two of them lorries, were hit on the I-5 highway below. Several people were injured in their vehicles but none died.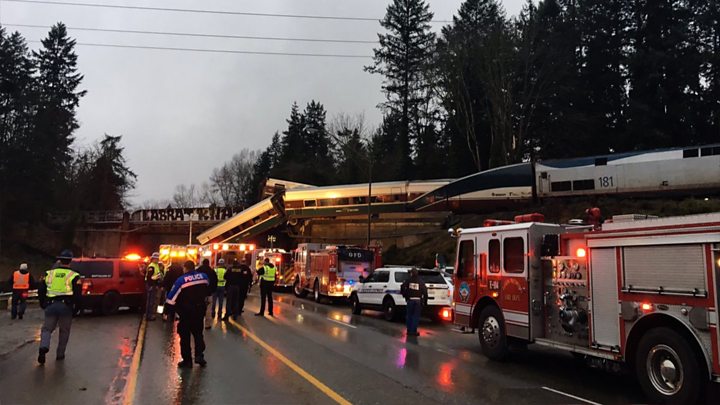 State transport spokesperson Barbara LaBoe was quoted in the Seattle Times newspaper as saying the limit on most of the track was 79mph (128km/h) but drivers were supposed to slow dramatically at the spot where the train derailed.
She said warning signs were in place two miles before the lowered limit.
It was Amtrak's first passenger service to run on a new, shorter route after an investment of $181m (£82m).
Amtrak is the name of the company that runs most passenger trains in the US, with some government funding.
The derailment happened on a section of track previously only used for freight trains.
A safety system called Positive Train Control (PTC) was not operational on the train in question, the president of Amtrak told reporters. Using GPS tracking, PTC automatically warns the driver of speed limits and other local conditions and applies the train's brakes if the warnings are not heeded.
Congress originally legislated for PTC to be installed by the end of 2015 but it is still not even halfway complete.
The cost of implementing the system fully on all tracks and vehicles is reported to be more than $22bn.
Train 501 had left Seattle, heading south for Portland, at 06:00 local time (14:00 GMT).
One passenger carriage could be seen dangling from the bridge, while others were strewn across the road and the wooded area next to the track.
Authorities are now working through wind and cold rain to clear and re-open the busy motorway, which stretches from Canada to Mexico along the US West Coast.
There were 86 people on board, including 77 passengers and seven Amtrak crew members, as well as a train technician.
Police say 19 people were taken from the scene uninjured. Of the approximately 100 people transferred to hospital for evaluation, 10 were considered to have serious injuries.
A recording of the train's emergency call to railway dispatchers was released to US media.
"Emergency! We are on the ground!" a man, possibly the conductor, radios in.
In a second radio call, another crew member reports that only the rear unit remains on the rails.
"All other cars appear to be on the ground in quite a mess," he says.
The train's driver has a head injury, he tells dispatchers.
President Donald Trump tweeted that the derailment underlined the need for his infrastructure plan.
However, US media outlets pointed out his submitted federal transportation budget actually proposed cuts to funding to national rail systems.
He later added that his thoughts and prayers were with those involved.
The section of track where the crash happened has been recently rebuilt and upgraded using federal funds.
What do we know about the train?
The train involved was operated by Amtrak and Monday's service was the first 0600 departure under the new timetable and on the new Point Defiance Bypass route
The train consisted of 14 cars, two of which were locomotives
It was being led by a Siemens Charger locomotive and was trailing a P42 unit which was not under power, Amtrak said
There were 12 Talgo carriages, each of which could take up to 36 passengers, but only 77 customers were on board
Recent fatal train crashes in the US
March 2017 - Biloxi, Mississippi. Four people died when the bus they were travelling in got stuck on train tracks and was hit by a freight train
May 2015 - Philadelphia, Pennsylvania. A passenger train derailed, killing eight people
January 2015 - Austin, Texas. A prison bus carrying 12 inmates and three officers skidded off a bridge and hit a freight train, killing 10 people on the bus
December 2013 - The Bronx, New York City. Four people died when the driver of a passenger train fell asleep and the train took a 30mph curve at 82mph, then derailed
June 2011 - Miriam, Nevada. A lorry hit a passenger train at a crossing, killing six people including both drivers
June 2009 - Northeast, Washington DC. A subway train hit a stationary train ahead of it, killing nine people, including the driver
September 2008 - Chatsworth, Los Angeles. A commuter train hit a freight train head-on, killing 25 people - the driver, who died, had reportedly been texting just before the accident
Are you in Washington? Did you witness the train crash? If it's safe to share your experiences then please email haveyoursay@bbc.co.uk.
Please include a contact number if you are willing to speak to a BBC journalist. You can also contact us in the following ways: