Trudeau's tropical vacation broke rules, says ethics tsar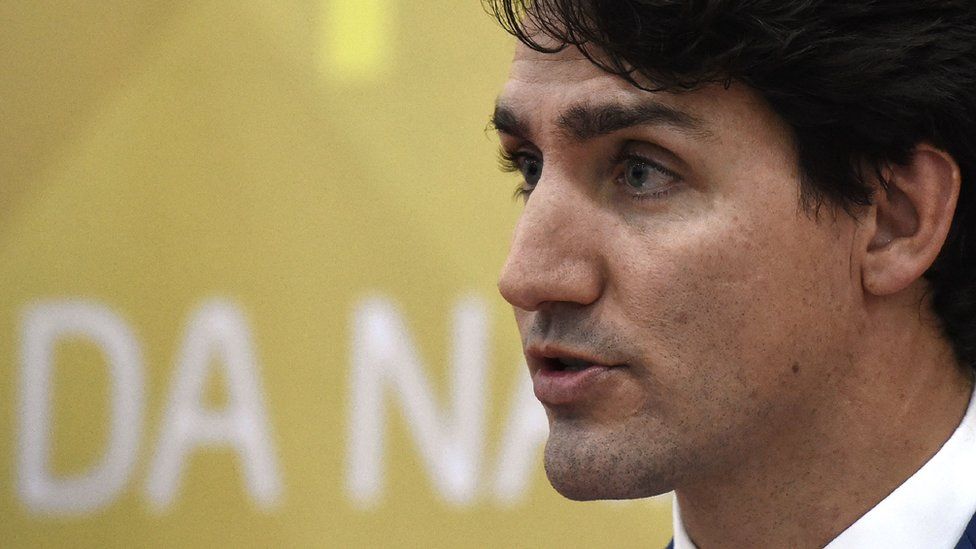 Canadian PM Justin Trudeau's tropical island vacations and the private aircraft that got him there have landed him in hot water.
The federal ethics commissioner has found Mr Trudeau's luxury trips to the Aga Khan's island in the Bahamas violated four conflict of interest rules.
Mary Dawson released a scathing report on Wednesday into Mr Trudeau's trips.
The PM says he erred by failing to clear the vacations in advance.
Mr Trudeau, his family, and some senior members of the Liberal Party vacationed on the island owned by the philanthropist and spiritual leader last December.
Mr Trudeau had previously vacationed on the private island in 2014, when he was an MP. His wife, Sophie Gregoire-Trudeau and guests accepted another trip in 2016.
The Aga Khan Foundation is a registered lobbyist and has received hundreds of millions from the federal government over the past several decades, from both the Liberal and Conservative parties.
The prime minister describes Prince Shah Karim Al Hussaini Aga Khan as a long-time family friend. He was an honorary pallbearer at the funeral of Mr Trudeau's father, Pierre.
Mr Trudeau says he has always considered the Aga Khan - whom he calls "Uncle K" - a close family friend, which is why he did not clear the trips in advance.
But Ms Dawson cast doubt on that relationship given their lack of "personal interactions" over a 30-year span, between 1983 and 2013.
She found they could not be characterised as "friends" and so the trips did not qualify as an exception that allows office-holders to accept gifts from friends.
Because of the relationship to the Canadian government, "the vacations accepted by Mr Trudeau or his family could reasonably be seen to have been given to influence Mr Trudeau in his capacity as prime minister," said Ms Dawson in her report.
Ms Dawson also said Mr Trudeau should have recused himself from discussions about private interests associated with institutions of the Aga Khan.
And she found the PM should have found alternatives to using the Aga Khan's private aircraft to travel between Nassau and his island.
Ministers and their families are barred from accepting travel on private aircraft except for during official duties or with prior approval.
Mr Trudeau promised on Wednesday to clear all future vacations with the ethics office.
However, the commissioner found Mr Trudeau did not participate in any decisions relating to the Aga Khan and his institutions or give them preferential treatment.
She also found that he did not break conflict of interest rules when he accepted the gift of a vacation in 2014 when he was a member of Parliament.