Florida fraternity engaged in 'conspiracy' in student's death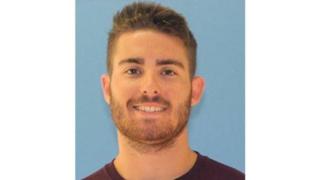 Fraternity students engaged in a "conspiracy" as they waited to call police when a student died from acute alcohol poisoning, says a court.
Florida State University's social club tried to obstruct the investigation, said the Leon County grand jury.
The panel was convened to decide if there is enough evidence to press criminal charges in the death of Andrew Coffey, 20, last month.
His family said he "died alone in a room full of people".
The 16-page grand jury presentment says there is sufficient evidence to prosecute fraternity members.
It is now up to the state attorney to decide whether to pursue the case.
The university suspended all so-called Greek life on campus after Mr Coffey's death.
More than 80 people, including two paid strippers, attended the members-only "Big Brother" party of the Pi Kappa Phi fraternity on 3 November.
Mr Coffey was given a bottle of bourbon to drink before passing out on a couch.
The fraternity did not force him to drink, but he probably would have been ostracised if he had not joined in, the grand jury said.
It added that the party "occurred in an environment of hazing".
The grand jury was highly critical of the fraternity members' actions after they discovered Mr Coffey had no pulse.
His "so-called brothers" wasted 11 minutes calling and texting each other before alerting authorities, the presentment found.
'Shocking apathy' to fraternity drinking
Ten charged for fraternity hazing death
The delay would not have saved his life, but it showed the fraternity "were more concerned about getting in trouble than they were about trying to save Coffey's life", jurors wrote.
During the investigation, the majority of students refused to speak to police, and those that did seemed to give "rehearsed" and "self-serving" testimonies.
The student's behaviour points to "elements of conspiracy and obstructionism", the grand jurors wrote.
They "repeatedly made the choice not to speak out, but rather to remain loyal to a culture of secrecy that cannot be allowed to continue," the report says.
Sandy Coffey, the young man's mother, said the grand jury presentment was disturbing.
"The Pi Kappa Phi creed uses words like loyalty, responsibility, standards, conduct," Mrs Coffey wrote in a statement.
"Easy words to put down on paper. Obviously more difficult to live by."
She said her son had wanted to join the US Navy.