Canada TV personality Steve Ecklund shoots cougar, sparking backlash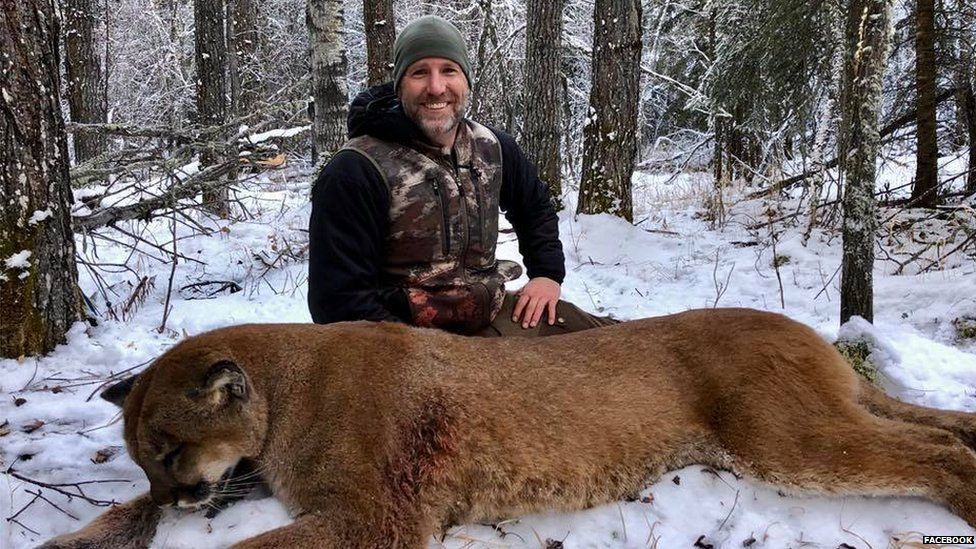 A Canadian television personality is getting pilloried on social media after posting a photo of himself next to a cougar that he had killed.
Steve Ecklund, who hosts the outdoor show The Edge, bragged about killing the large Alberta mountain cat online.
Photos of him next to the dead animal have sparked outrage, including some harsh words from Laureen Harper, the wife of Canada's former prime minister.
"Must be compensating for something," she tweeted.
What a creep. Chasing a cougar with dogs until they are exhausted then shooting a scared, cornered and tired animal. Must be compensating for something, small penis probably.https://t.co/UspnQEdWdL

— Laureen Harper (@LaureenHarper) December 21, 2017
Mrs Harper is the wife of former prime minister Stephen Harper, who was also an MP for Alberta, the province where the animal was hunted.
The couple are noted animal lovers, especially cats. She and her husband rescued many cats throughout his tenure in Ottawa.
Her uncensored reply caused a shock, since she was known to be quite reserved when she was in the public eye.
Wasn't hacked. I was really angry that some guy flies all the way to Alberta to kill a magnificent cougar, so he can make a stir fry. https://t.co/m4skcCGjZ4

— Laureen Harper (@LaureenHarper) December 21, 2017
But Mr Ecklund showed no sign of remorse.
"If you can guess what post has 900 likes, 450 comments, 13 confirmed death threats, 754 swear words and one very happy hunter in it.......I will enter your name into the draw for the new cougar cook book, filled with mouth watering recipes for your next mountain lion," he wrote on Facebook.
He defended the kill by explaining that he will use every part of the animal.
Not everyone felt outrage over the kill. Some defended it, saying the animals are predators and dangerous to humans. Cougars are not endangered in Alberta, and are legal to hunt.
"SO JEALOUS...maybe next year," wrote one commenter on his Facebook page.