Father 'famous' for Christmas lights dies fixing display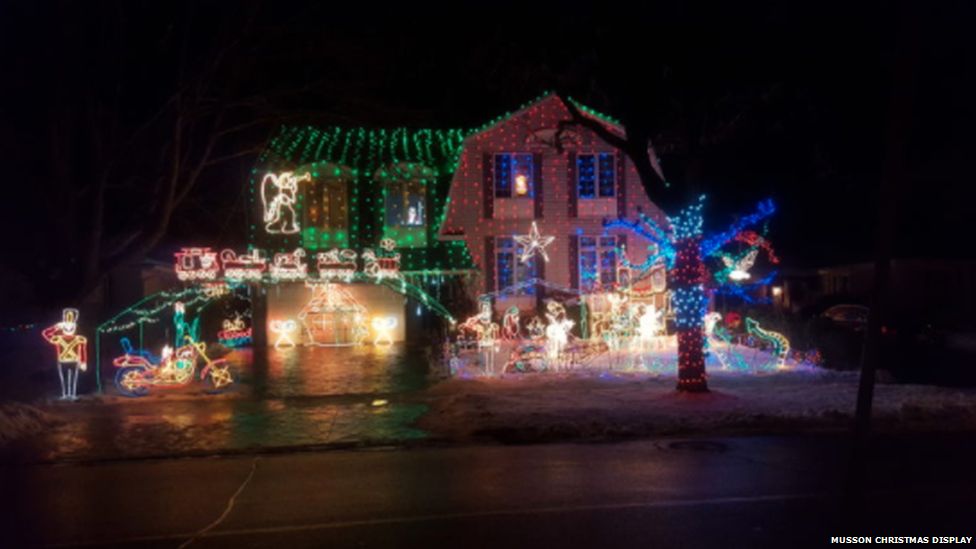 A Canadian man known for his elaborate Christmas lights has died after falling from his roof while fixing the display.
For 30 years, Doug Musson was known in southern Ontario for his home's remarkable Christmas decorations.
But on Monday, the 82-year-old "family man" died when his ladder fell from the roof while he was inspecting a leak.
He was concerned the leak, which was dripping on the pavement, would cause a bystander - of which there were many - to slip and fall, his family said.
Mr Musson died in hospital, according to family.
"Our family is devastated. I debated even turning on the lights but decided he would want them on and he worked hard on making all of the displays," his wife, Joanne Musson, wrote on the family's website, Musson Christmas Display.
Mr Musson's holiday creations started small when the family moved to Burlington, Ontario, in 1976, but took off in the 1980s and have grown more elaborate every year.
The entire property - from the eaves of the house to the trees - was dripping in thousands of lights. He also hand-welded wire sculptures to create little "scenes" on his lawn, from a Santa Claus contain 1,200 miniature lights to an archway containing 6,000 more in the driveway.
"Why do we got to all the work of putting up these lights?" his son, Scott Musson, wrote on the family's website before the accident.
"Well, if no-one came to see them we would stop doing them. We do it as a celebration of Christmas. We do it to give something back to our community. We do it to bring smiles on people's faces."
After Mr Musson's other son, Cam, died in a motorcycle accident in 1998, he crafted an illuminated Harley Davidson figurine in his memory.
Online, Mr Musson wrote that before switching to LEDs, the display used nine circuits of power.
The house has been called the Burlington Griswold House, after Chevy Chase's famously lit-up home in National Lampoon's Christmas Vacation.