Opioid crisis linked to two-year drop in US life expectancy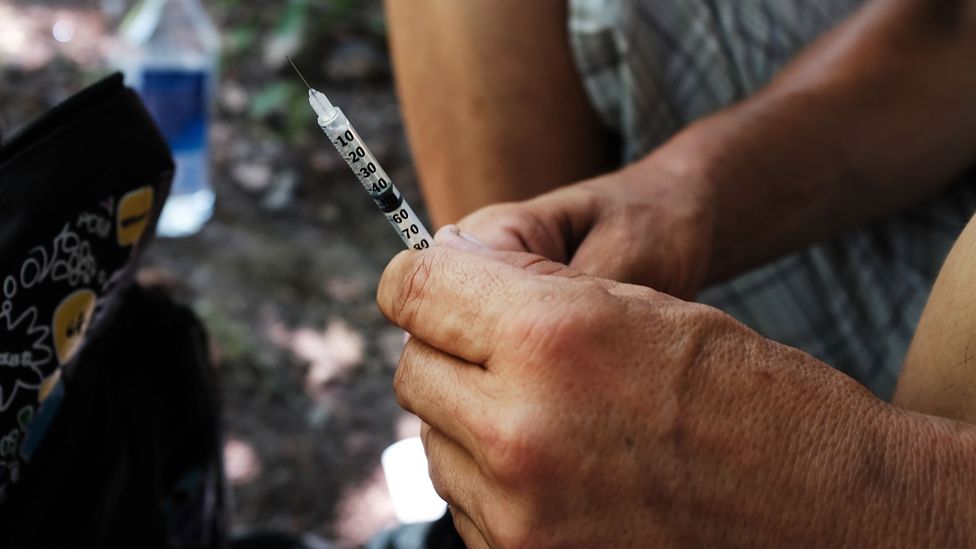 US life expectancy fell last year for a second year running for the first time in more than half a century, reportedly driven by the worsening opioid crisis.
It was the first consecutive drop since 1962-63. The last two-year decline before that was in the 1920s.
The previous fall in overall US life expectancy was a one-year drop in 1993, at the height of the Aids epidemic.
Years of over-prescription of opioid painkillers in the US has created a nationwide addiction crisis, with patients turning to heroin and other street drugs when their prescriptions stop.
"The key factor in all this is the increase in drug overdose deaths," said Robert Anderson, the chief of mortality statistics at the National Center for Health Statistics (NCHS), calling the two-year life expectancy drop "shocking".
More on the US opioid crisis
In 2016, 63,600 people died from a drug overdose, according to the Centers for Disease Control and Prevention (CDC) - up 21% from the previous year and three times the rate in 1999.
Opioid-related overdoses increased by 28%, killing 42,249 people, mostly in the 25-to-54 age group.
The 0.1-year overall drop in 2016 stems from a 0.2-year drop among men and no change among women, whose life expectancy at birth stayed at 81.1.
A life expectancy drop again in 2017 would represent the first three-year fall since the catastrophic outbreak of Spanish flu 100 years ago.
Behind the dramatic increase in overdoses among heroin users are synthetic opioids such as fentanyl, which has flooded the US market and is 100 times more powerful than heroin.
Many users unknowingly inject heroin that has been cut with fentanyl, leaving them with no control over the strength of the hit they take.
Overdoses from synthetic opioids jumped to 19,410 in 2016 from 9,580 in 2015, according to the CDC. There were 15,500 heroin-related deaths in 2016, up from 12,989 the previous year.
Death rates fell for seven of the 10 leading causes of death, including heart disease, cancer, stroke and diabetes. offsetting the increase in overdoses.
"If those hadn't declined to the extent they did then of course things would look worse," said Mr Anderson.
The 2016 death rate increased 9.7% for unintentional injuries, 3.1% for Alzheimer's - partly due to an aging population - and 1.5% for suicide.
In a separate report, the CDC linked a 133% increase in hepatitis C cases between 2004 and 2014 to the increase in users injecting opioids.
In October, President Donald Trump declared the opioid crisis a public health emergency.
He stopped short of declaring a national emergency, which would have freed up more federal funds to combat the crisis.