Dick Enberg, award-winning US sports broadcaster, dies at 82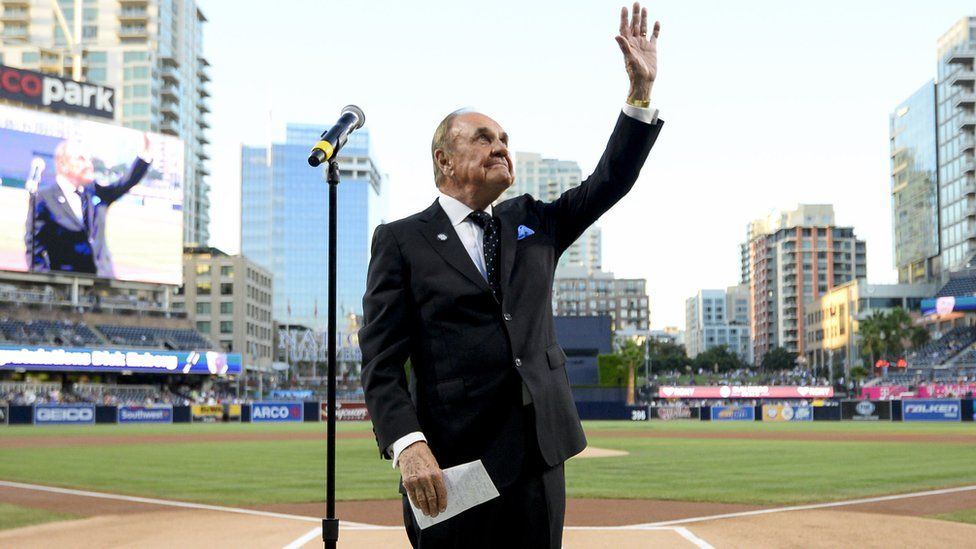 US sports broadcaster Dick Enberg, famous for his cries of "Oh my!" while covering events over a career spanning almost 60 years, has died aged 82.
He was found dead at his family home in San Diego after suffering a suspected heart attack, his family has said.
Enberg received several awards for his sports coverage for US broadcasters, including NBC, CBS and ESPN.
His daughter, Nicole, confirmed his death after he failed to catch a flight to Boston on Thursday, US media report.
During his career, Enberg covered 10 American football Super Bowls and 28 Wimbledon tennis tournaments.
His work was celebrated with numerous awards, including 13 Emmys and the Ronald Reagan Media Award. He was also entered into the National Baseball Hall of Fame.
In August, Enberg was awarded the 2017 Lifetime Contribution Award for his services to sports broadcasting by the Detroit Sports Media.
Fans and former colleagues have been paying tribute to the popular broadcaster on Twitter.
John Ireland, a sports broadcaster for US radio, said Enberg was "a Mount Rushmore" of sports announcers.
If there was a Mount Rushmore of LA Sports Announcers, Dick Enberg is on it with Chick Hearn, Vin Scully and Bob Miller. Rams, Angels, UCLA, NBC, and so much more. Was the first famous announcer I ever met, and he couldn't have been nicer. Definition of a gentleman. RIP.

— John Ireland (@LAIreland) December 22, 2017
While Chuck Swirsky, a radio announcer for the Chicago Bulls basketball team, posted a number of tweets in which he said he would "mourn" the loss of an "icon", but added that he would "celebrate his humanity, humility and sincerity".
RIP Dick Enberg. An icon. A sports broadcasting superstar as a human being. I had the pleasure of knowing Dick Enberg personally and found him warm, gracious, caring and always professional. Thoughts and prayers to his wife Barbara and his family.

— chuck swirsky (@ctsbulls) December 22, 2017
Others simply tweeted: "Oh my!"