Miss America leaked emails: CEO Sam Haskell and three others quit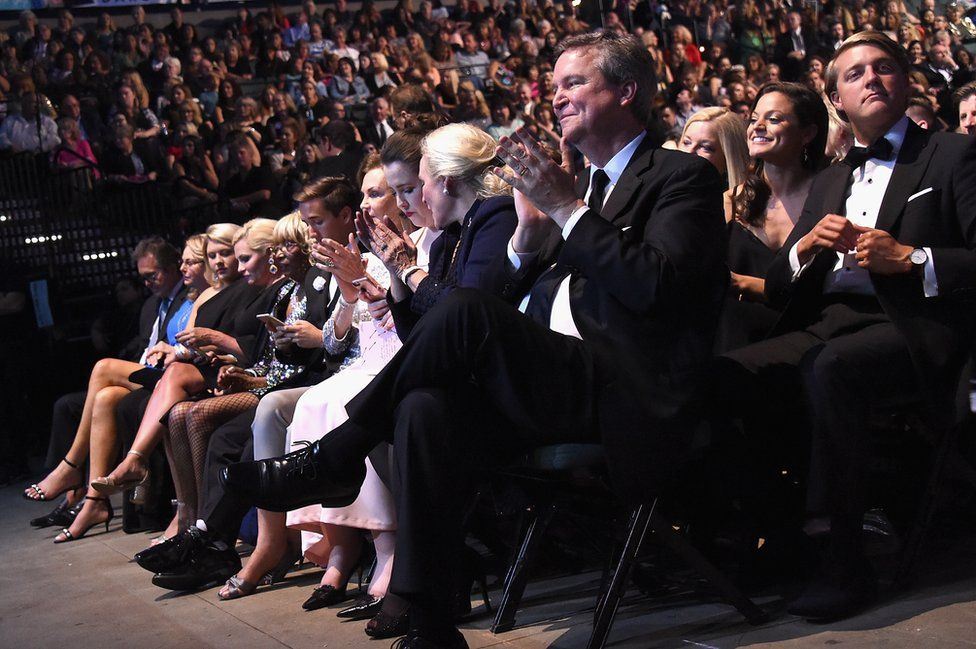 The Miss America Organization CEO, Sam Haskell, has resigned over leaked emails that disparaged pageant contestants.
The organisation said it would accept Mr Haskell's immediate resignation. Its chairperson, Lynn Weidner and two other executives are also leaving.
The emails reportedly include vulgar references to past winners and comments about their sex lives.
Former contestants criticised the "appalling" revelations.
The organisation's president and chief operating officer, Josh Randle, has also resigned "in light of recent and new developments", a spokesperson confirmed to the BBC.
Announcing the resignation of Mr Haskell in a statement posted on its Twitter account, the Miss America Organisation (MAO) said Ms Weidner would help install a new leadership before leaving.
Board member Tammy Haddad resigned on Friday.
The announcement of Mr Haskell's resignation came only hours after the MAO put out a statement saying he had been suspended.
The internal emails include name-calling, slut-shaming and fat-shaming of some of the contestants who had taken part in the pageant.
The revelations caused Dick Clark Productions, MAO's television sponsor, to cut ties with the long-standing pageant.
Dick Clark Productions said in a statement on Friday they had been made aware of the emails "several months ago" and were "appalled by their unacceptable content".
Pressure for the resignation of Mr Haskell also came from 49 former Miss Americas in an open letter.
A former Miss America winner, Mallory Hagan, who was mocked in some of the emails said she "wasn't shocked, but [felt] validated by the emails".
"For the longest time, I've tried to explain to people around me that this is happening or these things are being said," the winner of the 2013 pageant told NBC.
Gretchen Carlson, a former Miss America and a television presenter, said the alleged emails contained "disgusting statements about women" and "vulgar slurs".
"As a proud former Miss America & former member of Board, I'm deeply saddened by disgusting statements about women attributed to leadership of MAO. No woman should be demeaned with such vulgar slurs. As I've learned, harassment and shaming of women is never acceptable" https://t.co/4lCYl77OUN

— Gretchen Carlson (@GretchenCarlson) December 22, 2017
In a statement, Mr Haskell said he had been "under stress from a full year of attacks by two Miss Americas, and while I don't ever want to offer an excuse, I do want to offer context".
But he also said the original story was "vicious" with "conveniently edited emails".