Malta: Plane blown into airport building by strong winds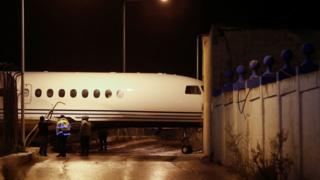 A plane crashed into the side of a building after it was blown from its parking space by strong winds in Malta.
The nose of the privately owned aircraft hit an adjacent building at Malta International Airport, near Valletta.
Emergency services were called to the scene, however no injuries were reported.
There was nobody on board the plane at the time of the crash.
Maltese media say the plane belongs to Michael Ashcroft, a major donor to the UK's ruling Conservative party.
However, a spokesperson for Lord Ashcroft declined to confirm this to the BBC.
The plane that crashed was a privately owned Dassault Falcon 7X business jet.