Logan Paul: YouTube body video draws furious reaction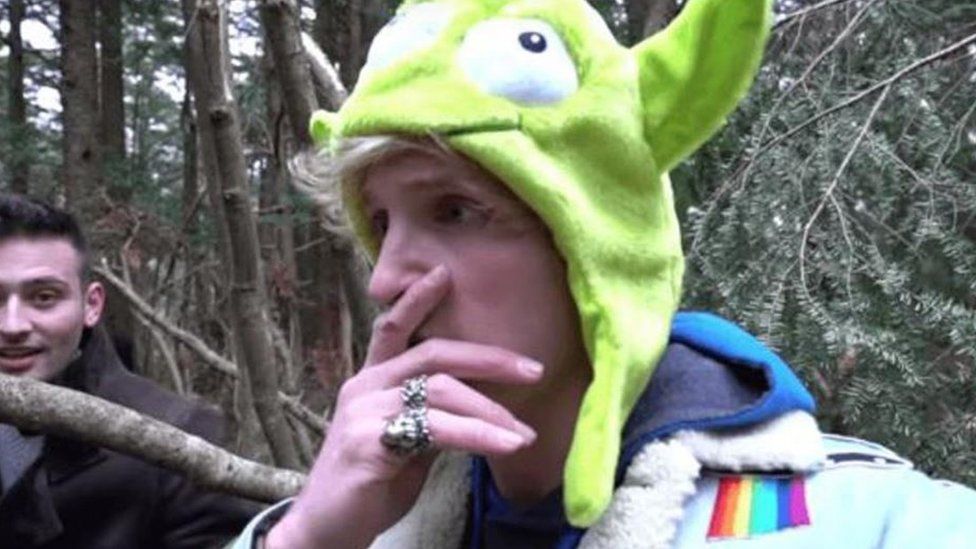 American YouTube star Logan Paul has drawn widespread condemnation on social media after posting a video which showed the body of an apparent suicide victim in Japan.
The footage featured Paul and friends in Aokigahara forest at the base of Mt Fuji, which is known as a frequent site of suicides.
Reactions ranged from deeply personal expressions of pain and disgust, to pleas for forgiveness from the fan base of the vlogger (video blogger) - and criticism from fellow YouTube moneymakers.
Breaking Bad actor Aaron Paul (no relation) called the YouTuber "pure trash" in an emotional post that referenced his millions of young fans.
Dear @LoganPaul,

How dare you! You disgust me. I can't believe that so many young people look up to you. So sad. Hopefully this latest video woke them up. You are pure trash. Plain and simple. Suicide is not a joke. Go rot in hell.

Ap

— Aaron Paul (@aaronpaul_8) January 2, 2018
YouTuber Zoe London shared similar concerns, tweeting: "I can't even imagine some of the conversations some parents have had to have with worried or frightened and upset kids all over the world."
She then posted the phone numbers for organisations offering advice and support for people in emotional distress.
Game of Thrones actress Sophie Turner re-tweeted a similar post to her 1.6 million followers.
Some Twitter users shared their experiences of losing loved ones to suicide, saying there was no defence for Paul's intrusive video.
Though the dead man was not identified and his face was blurred, the footage included close-up shots of his corpse.
In the video, one of the group with Paul is heard to say he "doesn't feel good", before the vlogger asks him: "What, you never stand next to a dead guy?", and laughs.
Dear @LoganPaul,

When my brother found my sister's body, he screamed with horror & confusion & grief & tried to save her. That body was a person someone loved.

You do not walk into a suicide forest with a camera and claim mental health awareness.

— Anna Akana (@AnnaAkana) January 2, 2018
In his apology, Paul stated that he had "never faced criticism like this before, because I've never made a mistake like this before".
He said he had "intended to raise awareness for suicide prevention".
The video, uploaded on 31 December, garnered millions of views and well over 500,000 "likes" before it was taken down.
Many who encountered the apology post took issue with the word "mistake".
"How is any of this a mistake?" tweeted one. "He edited this and had plenty of time to change his mind about uploading it."
Others said the fact that Paul would not profit financially from the video didn't excuse posting it in the first place.
did someone forget to tell logan paul that raising awareness for something isn't just showing people the thing. it's like if i wanted to raise awareness for global warming by sitting and watching some ice melt for a week

— Bertie Gilbert (@bertieglbrt) January 2, 2018
Logan Paul's YouTube channel has 15 million subscribers, and some of them were determined to fight his corner online as the controversy raged.
Several said he deserved to be forgiven.
"He made a mistake and corrected it in the best possible way he could, he is a positive human being," one tweeter argued.
But if Paul expected support from fellow social media celebrities, it was notably absent.
Grayson Dolan, a teenaged social media star with 5.1 million Twitter followers, said Paul should simply have known better.
Many of those who enjoy YouTube vlogs are young - often in their teens or even below - and potentially impressionable.
Suicide is serious. People have lost loved ones, idols, hero's, fans to suicide. Filming a video and mocking a victim is not raising suicide awareness. Laughing at the body of a poor depressed soul. I can't believe the disrespect of the victim, their family, and your YOUNG fans.

— Grayson Dolan (@GraysonDolan) January 2, 2018
PewDiePie, a YouTube big-hitter with 54 million subscribers, tweeted his condemnation in a style used online to mock stupid behaviour.
Logan Paul goes to ''suicide forest'':

WoAH wE f0UNd ded GuY here!!!!!

s0 cRaZy!
lEMme jUsT zOom in oN tHis F0r tHe Vl0g

OK guYs seRiousLy , lEAve a like if yur sad to0..

— pewdiepie 💰 (@pewdiepie) January 2, 2018
The millionaire vlogger, whose real name is Felix Kjellberg, was forced to apologise himself last September when he used an offensive racist slur while live-streaming himself playing a video game.
"I do strongly believe that you can joke about anything, but I also believe that there is a right way and not the best way to joke about things," Kjellberg said at the time.
If you are feeling emotionally distressed and would like details of organisations which offer advice and support, click here. In the UK you can call for free, at any time, to hear recorded information on 0800 066 066. In Japan you can get help here.