Kansas 'swatting' victim's mum demands to see body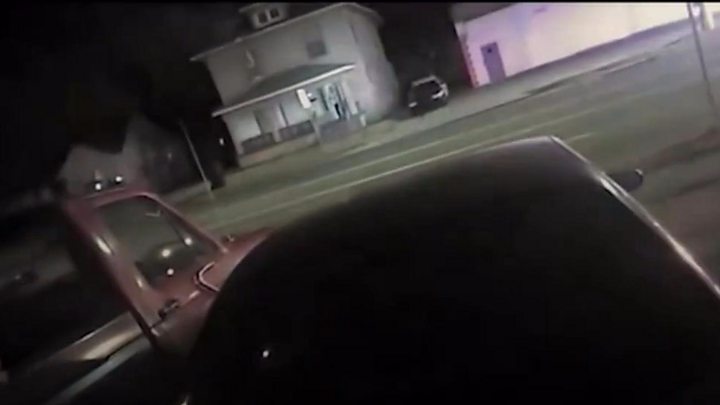 The mother of a man who was fatally shot by Kansas police after a "swatting" prank call is pleading with officials to let her view his body.
Innocent father-of-two Andrew Finch was shot by Wichita Police six days ago after a video-gamer reported a fake hostage situation at Finch's home.
In a letter, his mother accuses city officials of "compounding our grief and sorrow, by keeping my son from us".
A man who has been jailed previously for hoax calls has been arrested.
Police have said they believe the phone call was an act of "swatting" where a person makes a false report to send police to another person or fake address.
"Please let me see my son's lifeless body," Lisa Finch wrote in a letter to Wichita Mayor Jeff Longwell and Police Chief Gordon Ramsey on Tuesday.
"It goes without saying that our family is devastated by what has happened," she wrote.
Her letter includes a request that police reveal the name of the officer who fired the deadly shot, and that he be prosecuted.
"What cannot go without saying is why Wichita City leadership is compounding our grief and sorrow, by keeping my son from us?" she adds.
"I want to hold him and say goodbye. Please immediately return his body to us."
Police found that the call on Thursday - which led to a seven-year police veteran shooting Finch on his front porch - originated 1,400 miles (2,250km) away from the home.
The caller had falsely claimed that the homeowner had shot and killed his father, and was holding his own family hostage with a gun.
Police say Finch was shot by the responding officer after he moved his hands towards his waist.
On Friday, a man in California was arrested on suspicion of reporting a fake crime.
Tyler Barriss, 25, who had previously been arrested for reporting a fake bomb threat to a TV station, is due in court on Wednesday to face extradition to Kansas.
In 2015, he was arrested and given a two-year-sentence for nearly 20 similar phone threats, police say.
A lawyer for Finch's family has told US media that they want the police officer who fired the fatal shots to be arrested.
"The city of Wichita and the Police Department are liable because of their policies and practices as it relates to this shooting," lawyer Andrew Stroth told CNN.
"Swatting is not new, just like prank calling is not new," Mr Stroth said, adding that the police shooting should be ruled "unjustified".