Trump Bannon row: Who is author Michael Wolff?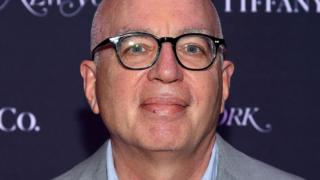 A book released by journalist Michael Wolff has already started grabbing headlines around the world.
US President Donald Trump's press secretary, Sarah Sanders, has rebuffed Fire and Fury: Inside the Trump White House as "trashy tabloid fiction".
But Wolff says he had high levels of access, conducting more than 200 interviews with Mr Trump and his staff across 18 months.
The president's lawyers are seeking to stop the book's release on Tuesday.
What has Wolff said about the book?
In an interview with NBC's Today show, the author said Mr Trump's staff regard the president as they would an infant.
"I will tell you the one description that everyone gave, everyone has in common. They all say he is like a child.
"And what they mean by that is he has a need for immediate gratification, it is all about him."
The president "does not read, does not listen", he added. "He's like a pinball just shooting off the sides."
He also rejected White House claims he had not spoken to the president and that the book was full of lies.
"My window into Donald Trump is pretty significant," he said, adding that he was comfortable with everything reported.
What do we know about the author himself?
Michael Wolff, 64, has written regular columns for publications including New York magazine and Vanity Fair.
His style is typically to give readers glimpses of the inner workings of a subject, often media organisations, and the moguls behind them.
Some of his writing has proved controversial, with subjects publicly disputing his reporting.
He was previously best known for his biography of Rupert Murdoch, titled The Man Who Owns the News, which was released in 2008.
After winning national awards for his reporting, he was described in a 2004 profile in The New Republic as the "It Boy of New York media".
The writer Michelle Cottle tried to characterise his writing style by speaking to him and other journalists who knew him.
"Even Wolff acknowledges that conventional reporting isn't his bag," she wrote in the cover story.
"Rather, he absorbs the atmosphere and gossip swirling around him at cocktail parties, on the street, and especially during those long lunches."
So how close did he get?
Wolff explained the context of the White House tell-all in excerpts released to New York magazine on Wednesday, before penning a second piece for the Hollywood Reporter, released on Thursday.
The author alleges he was able to take up "something like a semi-permanent seat on a couch in the West Wing" after he interviewed Mr Trump in June 2016.
He said the president had encouraged the idea himself, writing that "Trump seemed to say, knock yourself out".
He says there were no ground rules placed on his access and that he was not required to make promises on his reporting, making for a "front row view of Trump's presidency".
But some of the excerpts from the book that have been released have already been criticised and questioned.
Wolff has acknowledged the difficulty with the book's sourcing, saying interviewees went on and off the record sporadically or "would provide accounts in confidence, only to subsequently share their views widely".
In the Hollywood Reporter, Wolff revealed his opinion that Mr Trump's White House was divided by a "near-violent factional war".
He said his "indelible impression" was that staff, including Mr Trump's family, "all - 100 percent - came to believe he was incapable of functioning in his job".
Janice Min, strategist at Eldridge Industries and part owner of the Hollywood Reporter, confirmed excerpts about conversations between Roger Ailes and Steve Bannon at a private dinner party in New York City.
Ms Min appeared on CNN and MSNBC to discuss details of the party and has called the book's account "absolutely accurate".
News website Axios reports that the author may have taped dozens of hours of interviews for the book, including with former White House strategist Steve Bannon and former deputy chief of staff Katie Walsh.
Quotes attributed to Mr Bannon in Wolff's book prompted Mr Trump's lawyers to issue him with a cease-and-desist order, accusing him of violating a non-disclosure agreement and defaming the president.
What is already being disputed?
People have started poking holes in some of the harder-to-believe anecdotes.
One passage, released in New York magazine, implies the president did not know who former House speaker John Boehner was when former Fox News head Roger Ailes recommended him for the position of Mr Trump's chief of staff.
But as the Washington Post points out, Donald Trump had previously golfed with him, and tweeted about Mr Boehner multiple times.
Former UK Prime Minister Tony Blair has described an allegation about him in the book as "absurd" and "a complete fabrication". According to The Times newspaper, Wolff says Mr Blair shared a "juicy rumour" with Mr Trump's son-in-law that the UK government had his campaign under surveillance.
A billionaire friend of Donald Trump, Thomas Barrack Jnr, has also denied a quote attributed to him by Wolff, telling a New York Times reporter that he never said Mr Trump was "not only crazy, he's stupid."
There is also an incorrect claim in the book that CNN last year broadcast salacious contents of the Russian dossier concerning Mr Trump.
In fact, CNN was careful to withhold such details at the time.
How much credence can we lend the book?
NBC's political reporter posted an extract from Wolff's introduction, which addresses the inherent problem that a lot of stories coming from the White House conflict with one another:
"Many of the accounts of what has happened in the Trump White House are in conflict with one another; many, in Trumpian fashion, are baldly untrue. Those conflicts, and that looseness with the truth, if not with reality itself, are an elemental thread of the book. Sometimes I have let the players offer their versions, in turn allowing the reader to judge them. In other instances I have, through a consistency in accounts and through sources I have come to trust, settled on a version of events I believe to be true."
So the book may make an interesting and compelling read but the stories inside are taken from recollections and opinions of people who spoke to Wolff, rather than being indisputable fact.
Whether Melania Trump really was in tears on election night or Ivanka Trump really did mock her father's "comb-over" and has presidential ambitions of her own may never be known.
Either way, people seem to want to read the book. It has already reached the top of Amazon's best sellers' chart, days before its official release.