'Bomb cyclone' brings travel chaos and deaths to US north-east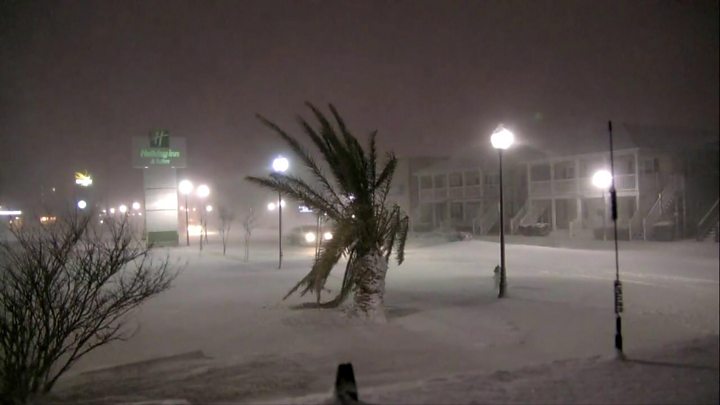 A winter storm has caused travel chaos in the north-east US and is being blamed for up to 17 deaths.
Nearly 4,000 US flights were cancelled on Thursday as snow blanketed parts of the north-eastern US seaboard as well as eastern Canada.
Boston could get up to 18in (45cm) of snow while rough waters have already triggered coastal floods in the region.
The storm, known as a "bomb cyclone", is expected to continue to affect eastern North America into the weekend.
After the snowfall ends, temperatures are expected to plunge as frigid air lingering over the North Pole heads towards the US mid-Atlantic region.
Experts warn that parts of the US may record their lowest-ever temperatures on Friday and Saturday.
Nearly 60 million people are in the path of the storm, with weather warnings in effect from Maine to parts of Georgia.
The National Weather Service said: "Heavy snowfall rates will spread northward across NH [New Hampshire] and through southern/central ME [Maine] through early this evening.
"In addition to heavy snowfall rates, the intensifying storm will result in strengthening winds, producing blizzard conditions for coastal regions of New England."
In Boston, weather officials say the tide may reach its highest recorded level since 1921.
Coastal flooding has already begun in some areas of Massachusetts, and weather forecasters warn that it may takes days for water to drain back into the ocean.
The National Weather Service has warned residents to not stand on icebergs as they float down city streets.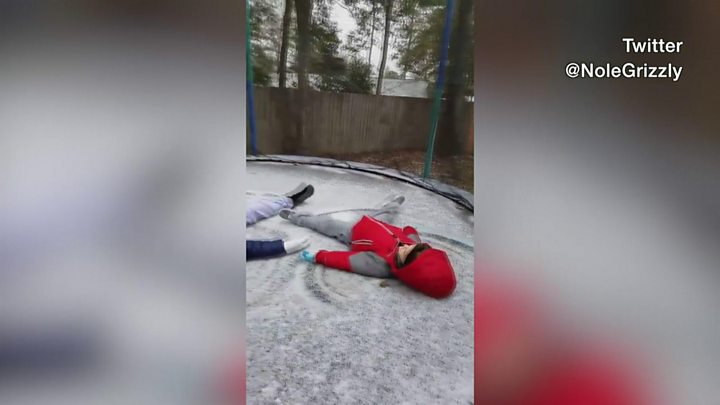 Hurricane force winds of up to 60mph (95km/h) are predicted to hammer the north-eastern US coastline.
US railway operator Amtrak is running on a reduced schedule, and interstate buses are also being cancelled.
The weather pattern has already brought snow to the US South as far down as Florida.
"The situation has continued to deteriorate," said New York Governor Andrew Cuomo as he declared a state of emergency on Thursday.
"It's almost impossible to clear roads when you have those high wind gusts, because as soon as you clear the road the snow, the wind literally just brings the snow back on to the road."
Cars becoming stranded on the Long Island Expressway, he added, could cause a "situation of life and death" in which rescuers may be unable to reach trapped motorists.
Who has died?
Cold-related deaths have been reported across the US including:
Two people in North Carolina whose pickup truck ran off a snowy road and overturned in a creek in Moore County
A 13-year-old girl in New Jersey who died from suspected carbon monoxide poisoning after an outbreak in an apartment block which left at least 35 people needing medical treatment
---
What is a 'bomb cyclone'?
A "bomb cyclone" or "weather bomb" is an unofficial term for what is known as explosive cyclogenesis, according to BBC Weather.
This occurs when the central pressure of a low pressure system falls by 24 millibars in 24 hours and can result in violent winds developing around the system.
The winds can be strong enough to bring down trees and cause structural damage.
The storm is forecast to undergo rapid cyclogenesis over the Atlantic Ocean throughout Thursday and into the weekend, and current projections show areas north of New York as having the highest risk of significant impacts from strong winds and heavy snow.
---
Images online show floating ice floes on Mississippi River piling up under bridges.
Four Thresher sharks, which conservationists say are particularly vulnerable to the cold, have been found frozen to death along the Cape Cod Bay shoreline in Massachusetts.
Schools are closed in New York City, Philadelphia, Boston, the Carolinas, Maryland, and Virginia due to the danger of hypothermia, frostbite and traffic accidents.
Photos went viral online of students attending a lesson at a public school with a broken furnace in the Maryland city of Baltimore.
The entire Baltimore City public school system closed down after the local teachers' union complained of its educators being "forced to endure teaching in classrooms with dangerously low temperatures, instructing students who have been forced to try to learn bundled up in coats, hats and gloves".