Immigrant cleared in Kate Steinle murder sentenced on gun charge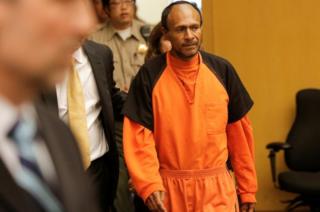 An undocumented Mexican immigrant who was acquitted in the shooting death of a US woman has been sentenced to time served for illegal gun possession.
Jose Ines Garcia Zarate was found not guilty in the 2015 murder of Kate Steinle in San Francisco, after jurors deemed his actions accidental.
But he was convicted of illegally possessing a firearm and was given three years, which he has served.
He still faces federal charges and will not be immediately released.
A San Francisco judge on Friday sentenced Garcia Zarate, 54, to three years for being a convicted criminal in possession of a handgun.
Since he has been jailed since his arrest, the judge ruled that he has already completed his sentence.
Mexican murder case verdict angers Trump
Garcia Zarate, a Mexican national deported from the US five times, was charged in July 2015 with the shooting of Ms Steinle, 32, while she was walking with her father and a friend on a San Francisco pier.
His defence team argued that he found a gun wrapped in a shirt under a bench and it went off as he picked it up, shooting a bullet which ricocheted into Ms Steinle.
Prosecutors contended he had intentionally fired the weapon, but a jury disagreed.
After he was acquitted in December, US President Donald Trump called the ruling "disgraceful" and reiterated his call to build a wall on the US border with Mexico.
During the 2016 presidential election campaign, Mr Trump frequently highlighted the case as he argued for tighter immigration controls and for so-called sanctuary cities, which refuse to co-operate with immigration agents, to be penalised.
A week after the ruling, a federal grand jury brought two felony charges of illegal firearm possession against Garcia Zarate. He will be turned over to federal authorities after he finishes his state sentence, according to the San Francisco sheriff's department.
Garcia Zarate was released from jail only weeks before the 2015 shooting, when San Francisco officials ignored a request to hand him over to federal immigration officials for illegally re-entering the country.
The Trump administration has sought to withhold grant funds from sanctuary cities, but on 1 January California became the first "sanctuary state".
In June, Mr Trump announced a plan called "Kate's law" - named for Ms Steinle - which he said would increase penalties for deportees who re-enter the US.