Is it true only 10% of Americans have passports?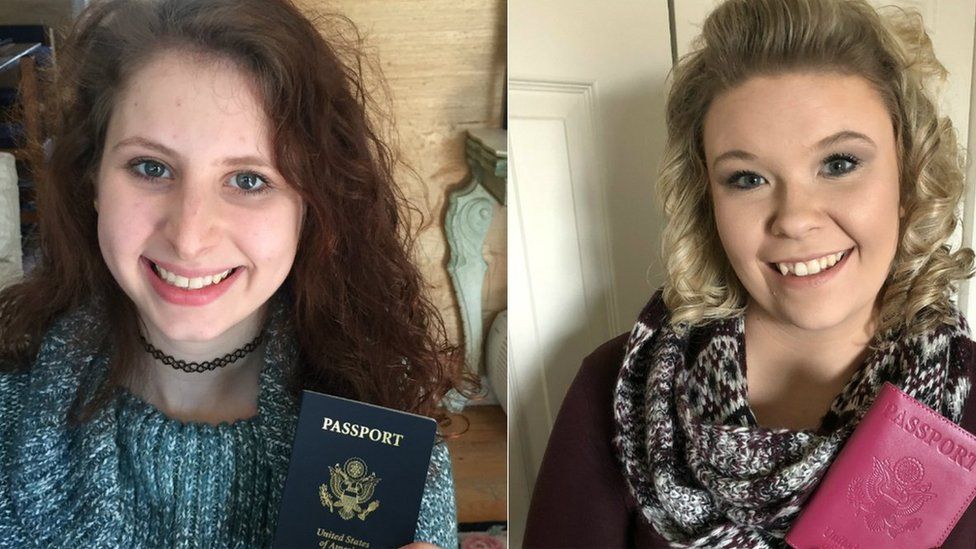 It is often said that only 10% of Americans have passports. But that has not been true for more than 20 years.
At first, Elijah Stem was confused when he unwrapped the Christmas present from his girlfriend, Margo.
It was red. Smaller than a book. Made of leather.
And then he realised. It was a passport cover.
Elijah, a 21-year-old politics student from Philadelphia, has never left the United States.
His gift was a trip to Canada in March - Niagara Falls followed by Toronto - and help getting his first passport.
"I didn't expect anything like that as a present," he says. "I was extremely happy."
There is a myth, found easily online, that only 10% of Americans have passports.
While that was true in 1994, the figure now is more than 40% - and it grows every year. Elijah is part of a trend.
For Lisa Delpy Neirotti, a professor of tourism at George Washington University Business School, there are three reasons for the rise.
Firstly, the 9/11 attacks meant the rules changed.
Before 2007 - when new laws began kicking in - Americans could usually travel to and from Canada, Mexico, and other nearby countries, without a passport.
When the law tightened, people needed passports to leave the country. Within three years, the number of US passports in circulation had grown by 20 million.
Secondly, a growing economy, budget airlines, and falling oil prices, means travel is easier - and cheaper - than ever.
"I just saw an ad for a $90 each-way flight to England," says Prof Delpy Neirotti. "Who's going to pass that up?"
The third reason, she says, is the rise of "experientialism".
"Millennials would rather put their money into experiences than consumer goods," she says.
"They'd rather spend their money on something that's going to bring a memory - or a Snapchat photo - than a car, or a new couch."
That theory is supported by Elijah. When he opened his present, his girlfriend said: "I know you like experiences more than material things."
It's also backed up by Asia Jones, a 20-year-old from Maryland.
Asia works with adults with disabilities, but dreams of being a writer. She has started a blog, focusing on travel and beauty.
Her first passport arrived at the start of January. She hopes to use it in Mexico or Belize at the end of February.
Asia was inspired by reading books. "I've read lots of romance novels - falling in love with millionaires, travelling the world," she says.
"I'm a hopeless romantic as well as a wanderer."
But she thinks the internet, and the growth of social media, is fuelling the growth in travel.
"The norm used to be 'OK, go to college, get married, settle down', all that kind of stuff," she says.
"Right now the norm is changing. It's evolving, and I like where it's going.
"Even though this generation sometimes gets out of hand, wherever we're going, it's going to be great."
Although the number of US passport-holders is growing, 42% may seem a low proportion. In Britain, for example, the percentage is far higher.
However, a passport-less American can travel thousands of miles further than a passport-less Brit.
Morgan Grant, a 22-year-old student from Maryland, got her first passport this month.
She's already been to the furthest US states - Alaska (4,000 miles away) and Hawaii (5,000 miles) - as well as the US Virgin Islands (an American territory in the Caribbean, 1,500 miles from Maryland).
But despite being widely-travelled, Morgan decided she needed a passport. For her, it was a political decision.
"I feel like I need an option to get out," she says.
Hilary Cassoday, a 25-year-old maths teacher from Indiana, has had a passport for a year.
When asked why she didn't get one sooner, she says fear played a part.
"People think everything here (in the US) is safe, and everything outside that border is unsafe," she says.
But, in March 2017, her college went on a trip to Northern Ireland. "I really think it was the highlight of my year," she says.
As a teenager, Hilary read the book P.S. I Love You - a story about an Irish couple by Cecelia Ahern - and watched the film.
"When I saw that movie, I was like, oh my goodness, I have to go to Ireland," she says.
"When the opportunity finally came up, I thought 'Now I'm going to finally see this beautiful landscape'.
"And it really was breathtaking."
Having been bitten by the travel bug, Hilary and her boyfriend are making plans.
"We want to be adventurous, we want to see new things," she says.
"We actually talked the other day about travelling to Japan. I thought 'What in the world!' But it's possible now I have a passport."