Golden Globes 2018: Eight highlights from the ceremony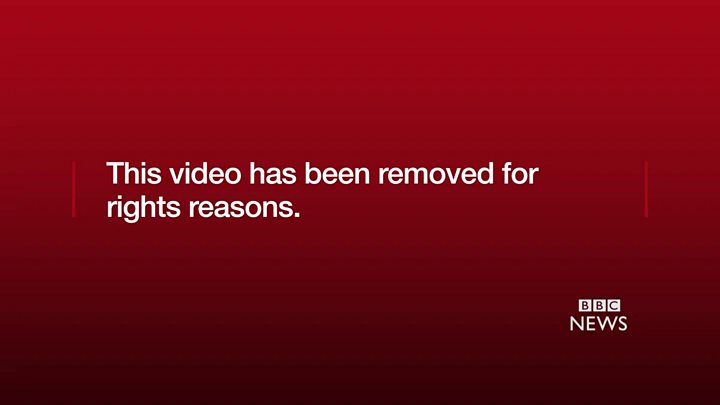 This year's Golden Globes ceremony was expected to be the most political in recent memory - and so it proved.
Host Seth Meyers referenced the Hollywood harassment scandal with the caustic opener, "Welcome, ladies and remaining gentlemen."
Star after A-list star walked the red carpet in black to show support for Time's Up, an initiative launched to fight sexual harassment in film and other industries.
And on social media, little escaped the gaze of viewers who settled in to watch the drama unfold.
Here are eight moments to raise a smile - or an eyebrow - from the Golden Globes 2018...
1. Host Seth Meyers' zingers
Late-night TV host Meyers came out swinging with a series of near-the-mark jokes, including the following:
"It's 2018, marijuana is finally allowed and sexual harassment finally isn't. It's going to be a good year!"
"There's a new era under way and I can tell, because it's been years since a white man was this nervous in Hollywood."
Addressing the elephant that "isn't in the room", he said: "Harvey Weinstein isn't here tonight because I've heard rumours he's crazy and difficult to work with, but don't worry, he will be back in 20 years when he becomes the first person booed during the In Memoriam." (Mr Weinstein denies all allegations of non-consensual sex.)
"For the male nominees in the room tonight, this is the first time in three months it won't be terrifying to hear your name read out loud. 'Did you hear about Willem Dafoe?' - 'Oh god no!' - 'He was nominated!' - 'Don't do that!'"
Reacting from the audience, Hollywood legend Dafoe produced a face that combined glee and terror in a single glorious grimace - and became an instant meme.
2. Oprah for president
Oscar-nominated actress and chat show host Oprah Winfrey won the Cecil B DeMille award for "outstanding contributions to the world of entertainment" - and almost brought the house down with her powerful acceptance speech.
She is the first black woman ever to receive the accolade.
"What I know for sure, is that speaking your truth is the most powerful tool we all have," she told the audience at the Beverly Hilton.
"I'm especially proud and inspired by all the women who have felt strong enough and empowered enough to speak up and share their personal stories."
She went on: "I want tonight to express gratitude to all the women who have endured years of abuse and assault, because they - like my mother - had children to feed, and bills to pay, and dreams to pursue.
Winfrey said we have lived for too long "in a culture broken by brutally powerful men".
"For too long, women have not been heard or believed if they dared to speak their truth to the power of those men. But their time is up. Their time is up!"
Oprah stormed to the top of Twitter's trending topics. US network NBC had this to say...
3. Not 'who' are you wearing, but 'why'?
Red carpet reporters shunned the usual sartorial question - "who are you wearing?" - in favour of a new one: "Why are you wearing black?"
Several actors had spoken out about their symbolic choice before the ceremony.
Charmed star Alyssa Milano, who launched the #MeToo hashtag in the wake of the Weinstein allegations, tweeted her perspective.
Debra Messing of Will and Grace fame answered the question live, saying: "I am wearing black to thank and honour all of the brave whistleblowers who came forward and shared their stories."
She then seized the moment to lambast E!, the network she was talking to, with a reference to Catt Sadler, a former anchor who quit over pay disparities.
"I was so shocked to hear E! doesn't believe in paying their female co-hosts the same as their male co-hosts," Messing said.
4. A win for cult film lovers
James Franco won the Golden Globe for best actor in a musical or comedy movie for The Disaster Artist - his first major award. The film is about the making of the legendary 2003 movie The Room, a cult classic once lauded as "the best worst movie ever made".
Tommy Wiseau, who wrote, directed and acted in the original film, accompanied Franco to the stage to claim the prize - and had to be hustled off the mic when he tried to take over.
Fans of The Room were ecstatic, and the man himself downright chuffed.
5. Pepsi comes back to haunt Kendall
Kendall Jenner, sister of reality TV star and one-woman branding machine Kim Kardashian, was America's highest-earning model in 2017.
Nonetheless, detractors on Twitter questioned what she was doing at an event for the TV and film industry. Some recalled her disastrous Pepsi advert, which the drinks giant pulled in 2017 after claims it undermined the Black Lives Matter movement.
6. And the female directors...?
Presenting the award for best movie director, Natalie Portman used a few choice words to highlight the absence of women filmmakers: "And here are the all-male nominees."
Mexican filmmaker Guillermo Del Toro won the Globe for fantasy romance The Shape Of Water, the story of a lonely janitor who falls in love with an amphibious creature.
Some on social media highlighted the absence of Patty Jenkins, who directed the record-setting blockbuster Wonder Woman, from the nominations list.
7. Handmaid Moss thanks Margaret Atwood
It was a great night for The Handmaid's Tale, which pipped glossy awards hog Game of Thrones to the Globe for best TV drama series.
Its star Elisabeth Moss, who plays Offred, also won the best actress in a drama prize - and credited author Margaret Atwood for writing the dystopian novel behind the show.
She read out a quote from Atwood, which runs: "We were the people who were not in the papers. We lived in the blank white spaces at the edges of print. It gave us more freedom. We lived in the gaps between the stories."
Thanking the legion of women who have fought for equality, Moss concluded: "We no longer live in the gaps between the stories. We are the story in print, and we are writing the story ourselves."
8. Black and Asian men make history
It wasn't only women making history at the Golden Globes 2018. Aziz Ansari, star of Netflix comedy series Master of None, became the first Asian American actor to win a Globe for best leading performance in a TV comedy.
The delighted winner had part of his speech bleeped out when the language got too sweary for prime-time.
This Is Us actor Sterling K. Brown also entered the record-books by becoming the first black man to win the award for best actor in a TV drama.
Brown, 41, thanked his wife and children - and praised the show's creator, Dan Fogelman, for writing a part that demanded a black actor.
"What I appreciate so much about this is that I'm being seen for who I am and being appreciated for who I am, and it makes it that much more difficult to dismiss me or dismiss anybody who looks like me," he said.