Minimum wage: Coffee, doughnuts, and the cost of a living wage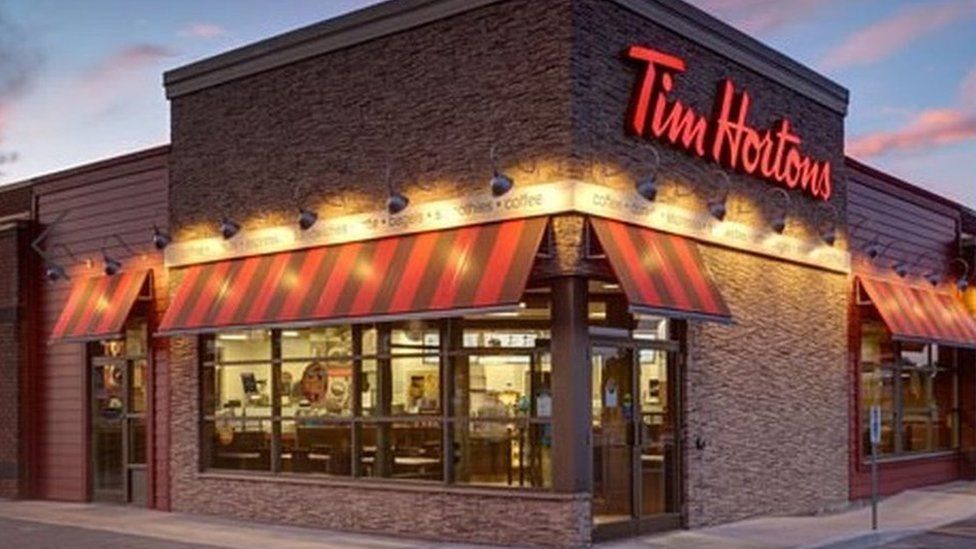 The $15 minimum wage is poised to become a reality in parts of North America. But pushback from businesses has many questioning the hidden costs of a higher standard of living.
It is the evening rush in the small town of Cobourg, Ontario, and more than a hundred people are lined up outside of Tim Hortons, the iconic Canadian coffee chain.
But they're not there to buy their regular after-work coffee and doughnut. They are protesting the franchise owners' decision to claw-back benefits and cut paid breaks in response to a local minimum wage hike.
"It is pretty reprehensible," protest organiser John MacDonald told the BBC.
"To take away a 10-minute break is pretty petty."
The Cobourg franchise, which is co-owned by the children of the chain's co-founders, has become ground-zero for the minimum wage debate in Canada.
Restaurant Brands International, the company that owns Tim Hortons worldwide, said individual franchise owners are responsible for handling employment decisions at their own stores.
But that has not stopped some Tim Hortons regulars from calling for a company-wide boycott.
The controversy is not limited to Ontario where the minimum wage has risen from C$11.40 ($9.10,£6.70) to C$14 an hour.
Alberta raised the minimum wage to C$13.60, and will raise it to C$15 by next October.
In the US, Seattle began phasing in a $15 minimum wage in 2017. New York City will pay fast food workers $15 by the end of the year, and California intends to gradually raise the minimum wage from $10 to $15 by 2023.
Arizona, Colorado, Maine and Washington have also approved minimum wage increases.
The changes are the culmination of years of campaigning and intense political debate. On the one side, there are the labour unions and progressive voters who believe that a higher minimum wage is one of the best ways to lift families out of poverty.
On the other, there are free-market believers and small-business advocates who believe that increasing costs for employers can only wreak havoc on the economy.
A recent report by the Bank of Canada, which estimated that minimum wage hikes across the country could cost as much as 60,000 jobs, lent credence to the sceptics, including the son of former Conservative Prime Minister Stephen Harper, Ben Harper.
The BBC is not responsible for the content of external sites.
Skip twitter post by Ben Harper
Allow Twitter content?
This article contains content provided by Twitter. We ask for your permission before anything is loaded, as they may be using cookies and other technologies. You may want to read Twitter's cookie policy, external and privacy policy, external before accepting. To view this content choose 'accept and continue'.
The BBC is not responsible for the content of external sites.
End of twitter post by Ben Harper
But critics pointed out that a reduction in workers' hours - the bank report estimated a reduction overall of 0.3% - does not necessarily translate into job losses.
In search of hard evidence, Canada is looking south of the border.
The Tim Hortons debate does not surprise Jacob Vigdor, an economics professor at the University of Washington whose paper on the employment effects of the minimum wage increase in Seattle has been raising eyebrows among economists.
At the American Economic Association general meeting last weekend, he argued that the minimum wage hike costs the average low-wage worker $125 a month.
The study, found that a wage increase from $9.47 in 2014 to as high as $13 in 2016 reduced hours in low-wage jobs by 9%, while real wages only climbed by 3%. Meanwhile, employment in jobs earning more than $19 an hour went up, a sign Mr Vigdor said, of employers prioritising more skilled workers.
"There are lots of actions that are being taken to economise on labour," Mr Vigdor told the BBC.
These findings fly in the face of prevailing economic wisdom, which has found that any employment effects (such as job losses) arising from increases in the minimum wage tend to be minor.
"For a modest increase in wages, you are getting extreme responses in employment," critiques Sylvia Allegretto, a University of California-Berkeley economist, who is also studying the effects of Seattle's minimum wage hike.
"If that were the case, first of all you'd think you'd see unemployment rising, and we're seeing it falling. And you'd also expect a huge outcry from lower-wage workers, which we are not."
Mr Vigdor believes his study got different results because he looked at the whole workforce, not just one industry. But many of his colleagues believe that his methods were fundamentally flawed from the start.
"Unfortunately I'm rather sceptical of the results at this point," MIT economist David Autor, who initially told the Washington Post that Mr Vigdor's study was persuasive, told the BBC.
By only sampling data from Seattle, Mr Autor says, Mr Vigdor's study may have been skewed by the rapid economic development in the region. He cited a study out of the University of Massachusetts, which was also presented at the economic conference, that looked at minimum wage increases across the US over the past 35 years.
It found no significant employment effects.
Although Mr Autor believes most evidence suggests increasing the minimum wage in general will have little effect on employment, he says "there is obviously a level above which you cannot go".
In most places, going to $15 an hour will be one of the largest historical increases.
"It is undeniable that if raised it to $30 an hour that it would have huge disemployment effects. So the question remains, at what point is it productive, or counter-productive," he says.