Missouri governor admits affair but denies blackmail claims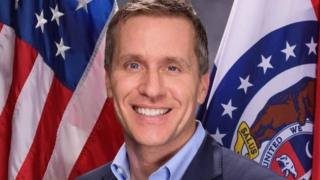 The governor of Missouri has admitted to being "unfaithful" to his wife, but denies claims that he blackmailed a woman to stay quiet about their affair.
Republican Governor Eric Greitens acknowledged an affair after a local television outlet aired a salacious recording by the woman's ex-husband.
In the recording the unidentified woman claims he took nude photos without her consent and threatened her with them.
He is one of several state politicians to face claims of sexual impropriety.
The details of the sexual relationship were first reported by KMOV in St Louis, which obtained a secretly-recorded tape of a conversation between the woman and her now ex-husband. The woman's lawyer declined to comment on the allegations.
The television report alleges Mr Greitens, before he was elected governor, had a sexual relationship with his hairdresser in 2015.
In the recording the woman is purportedly heard telling her husband in a tearful admission that she had visited the Mr Greitens' house in March 2015 after he refused to meet her in a public place.
She allegedly explained how he taped her hands to exercise rings, blindfolded her and took nude photos without her consent during an otherwise consensual encounter.
"I knew he was being sexual, and I still let him. And he used some sort of tape, I don't know what it was, and taped my hands to these rings and then put a blindfold on me," she said, according to the transcript.
She purportedly said she "saw a flash through the blindfold and he said, 'You're never going to mention my name".
The ex-husband told the station: "He took a picture of my wife naked as blackmail. There is no worse person."
During his 2016 campaign Mr Greitens, an ex-Navy Seal, billed himself as a family man.
In announcing his candidacy, he stated: "I'm Eric Greitens, I'm a Navy Seal, native Missourian and most importantly, a proud husband and father."
After the governor had just completed his annual state of the state speech on Wednesday night, he and his wife, Sheena, released a joint statement admitting to an affair "a few years ago". The statement did not explicitly address the affair or allegations.
"This was a deeply personal mistake," the statement read. "Eric took responsibility, and we dealt with this together honestly and privately".
In a separate statement, his wife Mrs Greitens said they have a "loving marriage and an awesome family. Anything beyond that is between us and God".
The couple, who were married in 2011, have two young sons.
Nearly 15 state lawmakers have resigned in the wake of the #MeToo movement, which was sparked by sexual assault allegations against Hollywood movie producer Harvey Weinstein, according to the Associated Press.
Three US lawmakers in Washington announced their resignation last month over sexual scandals in just one week.