'The whole state was terrified': How Hawaii reacted to false missile alert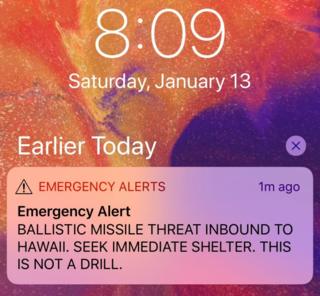 "I'm currently in Hawaii so 45 minutes ago I thought I was going to die by ballistic missile and now I'm making pancakes. Life is wild."
That was the verdict of musician Darcy Hanneman, one of many in the US state of Hawaii who received a terrifying - and incorrect - warning that a ballistic missile was heading their way.
The message was sent to some mobiles from the Hawaii Emergency Management Agency.
A second text confirmed it was a false alarm - but not until almost 40 minutes later.
The alert read: "Ballistic missile threat inbound to Hawaii. Seek immediate shelter. This is not a drill."
Unsurprisingly, social media was awash with strong emotions as people in Hawaii and beyond struggled to work out what was happening.
Ms Hanneman tweeted that she had "pulled the closet doors off and blocked off the windows".
Matt Lopresti, a member of the Hawaiian House of Representatives, told local television outlet KGMB he and his family had sought shelter in a bathtub.
"We got our children, grabbed our emergency supplies, put them in our most enclosed room in our house which is our bathroom... We put them in the bathtub, said our prayers, tried to find out what the hell was going on because we didn't hear any alarms, any of the sirens...
"There's not much else you can do in that situation. You know, we did what we could, what the state has been trying to tell people - to be ready in this kind of situation and to take it seriously, and I did.
"And I am very angry right now because it shouldn't be this easy to make such a big mistake."
Brian Schatz, a US senator from Hawaii, shared his anger on Twitter, writing that "the whole state was terrified".
Actor Jim Carrey said on Twitter that he woke up to the news on the island with a notification, before criticising US President Donald Trump for his handling of the North Korean crisis.
TV anchor Sara Donchey, who works for local news station KPRC in Houston, Texas, said she was in Hawaii's capital when the alert came through.
Emily Young, in Manoa, Hawaii said she was left "looking into bright blue sky wondering whether something would fall out of it".
"I've been here for three years now," she told the BBC. "I'm used to receiving flood alerts. I was on the phone to my friend when I saw the message come up. I flustered and scrambled a lot. It was a bit of a blur.
"We tried to turn on the radio, it was relaying the same info - but then regular broadcasts took over. We didn't know where to turn to."
Malcolm Beebe told the BBC from Honolulu he was also pondering his mortality: "I received the text massage about an incoming missile attack. I went outside to hear the air raid sirens, but heard nothing so I assumed it was a false alarm. I do know the sirens work as they are tested every now and then. Also at my age, 76, I am ready for death at any time..."
Some who received the message rushed to call their loved ones in case the worst should happen.
Elizabeth Hartnett told the BBC her parents were caught up in the scare.
"I live in London but am originally from Hawaii. My entire family still lives on the island of Oahu. My parents were out shopping when they both received the text messages. They ran into a local diner where around 20 people were also taking shelter. A few off-duty members of the military were there as well, and were confused because they hadn't been officially notified by their base.
"The patrons and staff of the diner were all quiet and scared. My dad tried to comfort a few of the waitresses, who were very distraught. Everyone tried to call their families, 911, or get online to check the news, but phone lines and data services were jammed. About 20 minutes after the text, someone was finally able to get onto the internet using their phone and saw the announcement that it was a false alarm. After that, my mum cried with relief."
Meanwhile other US government agencies seemed unfazed by the alert that was terrifying Hawaiian islanders. In the midst of the panic, the CIA's official account sent out a totally unrelated post about pandas, much to the mockery of other social media users.