Car hurled into upper floor of California building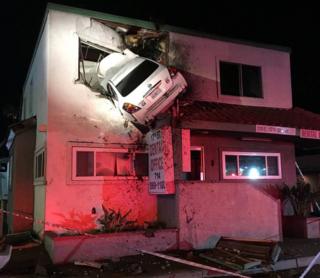 A speeding car in California was hurled into the upper floor of an office building after it hit a road divider, reports say.
The crash, which left one half of the vehicle hanging out of the building, occurred early on Sunday morning.
Both people in the car survived the crash but suffered minor injuries, according to police.
Police told US media outlets that the driver had allegedly used drugs and was in hospital for observation.
One of the two people was able to get out of the car but the other was stuck inside for more than an hour until rescuers arrived.
The crash also set off a small fire which was put out by fire officials, who tweeted photos and updates through the day.
The accident happened in Santa Ana, a city 35 miles (56km) south of Los Angeles.