Nine charged for giving food to homeless in California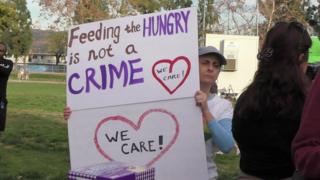 Nine people in California have been charged after they handed out food to the homeless, violating a rule about sharing food in public places.
The group were protesting against an emergency ordinance in the city of El Cajon which was introduced in response to California's hepatitis A outbreak.
They handed out food, clothes and toiletries on Sunday before police arrived and issued citations.
Hepatitis A can be spread by touching contaminated foods or objects.
The recent outbreak of the viral disease has taken a severe toll on California's homeless populations, who are most at risk as they do not have access to basic hygiene and sanitation.
Local media report that El Cajon City Council passed the ordinance in October.
It prohibits food sharing on any city-owned property. The authorities say it is a safety measure against hepatitis A, but opponents argue it unfairly penalises the city's homeless.
Police wrote a citation for a child who was among the volunteers, according to NBC San Diego.
"I was passing out food and this guy was like can you step aside please," 14-year-old Ever Parmley said.
The network quoted council member Ben Kalasho who said feeding the homeless at city parks is a "bad idea" while there is a hepatitis A outbreak.
"You can go out there, pick them up, take them back to your house and feed them and board them and room them and have them take a shower if you're really wanting to help," he said.
Typically only one out of every 100 patients die from Hepatitis A, according to officials, but the disease has killed at a higher rate in California due to the vulnerable populations it has affected.
Symptoms include fever, fatigue, abdominal pain, nausea and vomiting. Jaundice, or yellowing of the skin and eyes, is also a possible symptom.
There is a vaccine for Hepatitis A.