How can parents torture their children?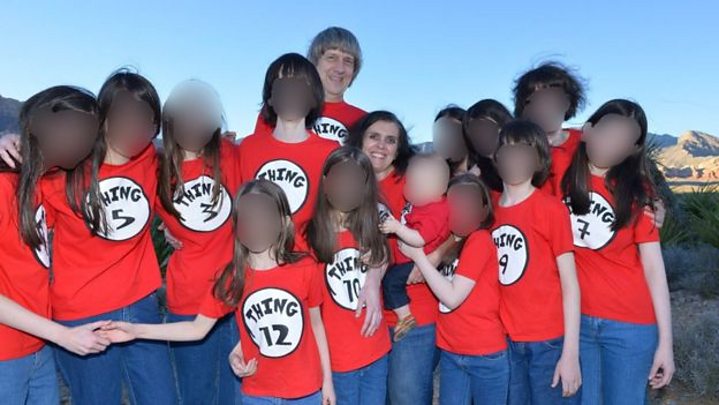 David and Louise Turpin stand accused of holding their 13 children in shackles at their California home.
The allegations of torture seem impossible to comprehend next to the family photos circulated in the press that show the smiling group on days out at places like Disneyland.
We asked experts in child abuse, psychiatry and psychology how parents are able to turn on their offspring.
How unusual is it to lock up your own children?
The Turpins' case is extraordinary for numerous reasons - particularly as the allegations are against two parents who had multiple children together.
Prof Browne, director of the Centre for Forensic and Family Psychology at the University of Nottingham, says it is more common to see cases where there is one child and the parent or parents cannot cope, so the situation spirals out of control.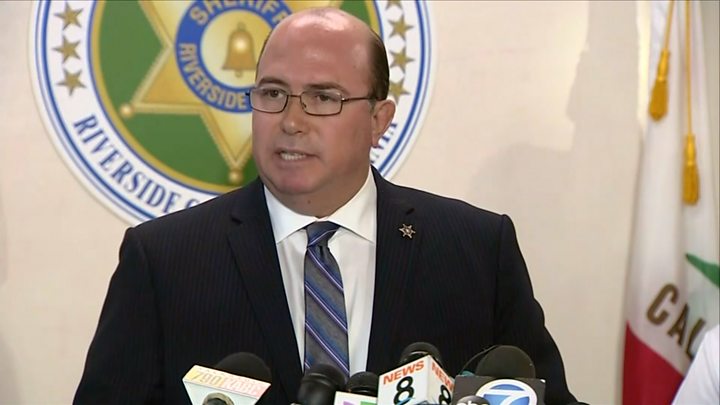 The 'happy family' charged with torture
Dr Bernard Gallagher, a child protection expert at the University of Huddersfield, says: "I see a lot of cases of neglect, where children are not washed or fed properly, but you don't often get cases of children being tortured, where the abuse seems calculated."
Can parents operate as an abusive team?
"When you get two people working together, they support each other and their behaviour becomes normal to them," says Coral Dando, a psychology professor at London's University of Westminster. "They behave in a way they would never behave on their own."
Though, one partner can also be controlled and led on by the other, she adds. "We tend to think of this as women being coerced into action by a man, as it is more common, but that is not always true."
How can abuse escalate?
When announcing the charges against the Turpins, local district attorney Mike Hestrin said the mistreatment appeared to intensify over time. "What started out as neglect became severe, pervasive, prolonged child abuse," he said.
Louise Turpin's sister, Elizabeth Jane Flores, told Good Morning America she stayed with the family 20 years ago and saw no specific signs of abuse, although she found their parenting style was strict.
Prof Browne says a situation can suddenly get worse because the perpetrators want to conceal a family secret, perhaps relating to the abuse.
"At some point, it becomes out of control, physically and socially, and they [the parents] have to control freedom of movement so the information can't be shared," he says.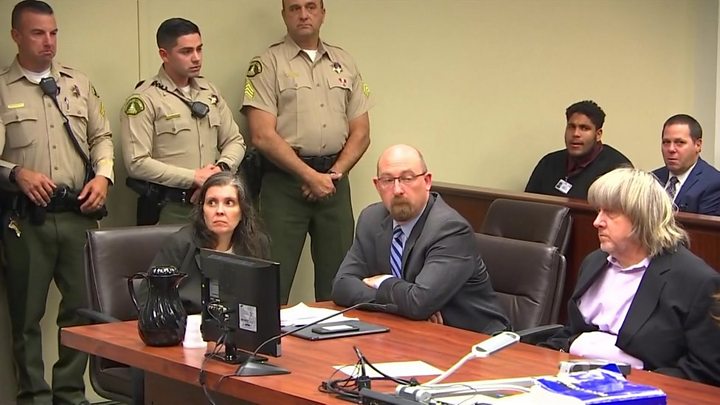 Dr Eileen Vizard, a consultant child and adolescent psychiatrist at UCL Great Ormond Street Institute of Child Health, says: "I can't comment specifically on current or past cases, but based on published research evidence and my clinical experience, cases of extreme abuse have often involved children who are hidden away in 'plain sight'."
"They may live with their families but they have no access to outsiders, such as professionals or playmates," she explains. "This means that abusing parents or carers never learn that there can be consequences from their cruel behaviours to children and children, in turn, never experience ordinary, non-abusing adults."
This, in turn, can create a relationship that has some elements of Stockholm syndrome, where abducted individuals identify with the abductor to ensure their own survival. "Some victims may identify themselves closely with the abusing parents about whom they may feel, paradoxically, very protective," says Dr Vizard.
How can abusive parents reconcile two sides of their lives?
Professor Browne says double lives "can be indicative of a personality order, where, say, a family man is sweet-as-can-be at home but a tyrant behind closed doors."
Dr Vizard says: "There are common mental mechanisms, such as 'splitting' and 'projection', which we all use to ignore aspects of our own bad behaviour or to attribute our bad behaviour to others as being their fault. Child victims may, in turn, feel that it is 'all their fault'."
Sometimes people can also use a warped version of religion to justify their actions, says Dr Gallagher, as they can convince themselves that a child is evil.
How can such levels of abuse be unknown?
Prof Dando, a former police officer who has also worked on modern slavery cases in her academic life, says that even when the victims have some contact with the outside world, fear can prevent them making a bid for freedom.
"For example, modern slavery victims go to work every day. They interact with the general public and they don't tell anyone, they even give their money to their abusers. That is the how they are being controlled - by threats and manipulation," she explains.
In the Turpin case, the children appear not to have had access to help. They did not attend school and instead Mr Turpin registered a private school in their home.
Dr Danya Glaser, a London-based child and adult psychiatrist, said home-schooling can allow children to go completely off the social radar. "There is nothing inherently wrong with home-schooling, but when there are no inspections, you can essentially end up with hidden children," she says.
One of the Turpin's neighbours told NBC News that they would see the children through the upper windows, late at night, marching in single file for hours.
Dr Glaser says: "If you know there are children living next door to you and you never see them or their behaviour is very odd, that should ring some bells." She says people should not be afraid to raise their worries, via the police, the local authorities, or a child abuse charity.
"It does not have to be an allegation, just a registered concern. That is one thing everyone can learn from this."