Pacific trade deal progresses with Canada and without US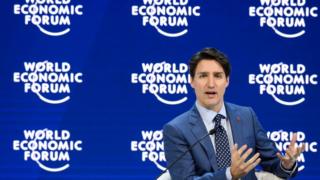 An Asia-Pacific trade pact that US President Donald Trump ditched last year is expected to be signed in March.
Eleven countries will meet in Chile in March to ink the agreement, which is known as the Trans-Pacific Partnership (TPP) and is championed by Japan.
One of the world's largest trade agreements, it was boosted on Tuesday when Canada said it would join.
The country had refused to sign an earlier version over concerns about environmental and labour protections.
The new TPP also includes Australia, Brunei, Chile, Malaysia, Mexico, New Zealand, Peru, Singapore and Vietnam.
China is not included in the pact, which was conceived in part as a way to counter the country's surging power in Asia.
Japanese Economy Minister Toshimitsu Motegi said the agreement will be an "engine to overcome protectionism" emerging in parts of the world.
He added Japan would explain the importance of the deal to Washington in hopes of persuading the US to join.
The countries have been working to revive the deal since the US pulled out last year.
Canada was considered the main holdout after Prime Minister Justin Trudeau was a no-show to a leadership meeting in November during the Asia-Pacific Economic Cooperation summit, where he was expected to sign the deal in principle.
Canada was concerned about intellectual property protection, language rights and employment and environmental protections in the deal.
"We all understand we need to do more on culture. I've said Canada will not settle for less. It was essential for me to fight for Canadian culture," said International Trade Minister Francois-Philippe Champagne at the time.
Canada's commitment comes the same week that Canada, Mexico and the US enter into the sixth round of talks over the North American Free Trade Agreement.
Previous rounds have been tense, raising concerns that President Trump will make good on his threat to withdraw from the deal, which is vital to Canada's economy.