Larry Nassar victim calls him 'the scariest monster of all'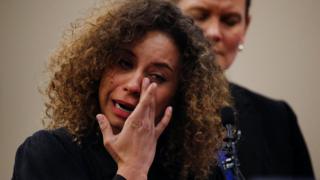 A former US gymnastics champion has called the disgraced national team doctor who molested her and well over 100 others the "scariest monster".
Mattie Larson said in court Larry Nassar had first molested her at 14 and did so repeatedly even when her friends and coaches were in the room.
Two other women forgave the 54-year-old in court on Tuesday for abusing them.
He is expected to learn his fate on Wednesday, the seventh day of the sentencing hearing.
Nassar has pleaded guilty to 10 counts of criminal sexual conduct and faces life in prison.
He already faces 60 years in jail for possession of child pornography.
Some 158 women accuse the former USA Gymnastics doctor.
His victims included Olympic gold medal gymnasts Aly Raisman, Jordyn Weiber, McKayla Maroney, Gabby Douglas and Simone Biles.
Ms Larson told the court on Tuesday how she was repeatedly abused at the isolated Karolyi Ranch, a USA Gymnastics training site in Texas.
The 25-year-old elite former gymnast said Nassar would abuse her in the lounge where her teammates were watching television, and often around her coaches and trainers.
"If he is doing this in front of my friends, it can't be that bad, right?" she said she remembered thinking.
"Larry, you were the only one I trusted," Ms Larson said in court. "In the end, you turned out to be the scariest monster of all."
She tearfully said her ordeal "turned the sport I fell in love with as a kid into a living hell" and left her suicidal.
Ms Larson said she used to go to great lengths to avoid the "eerie" training camp.
She told how she once deliberately smashed her own head on a bathroom floor to injure herself and pretend she had slipped on a mat.
"I can't even put into words how much I f****** hate you," she told Nassar. "No accolade or award is worth enduring abuse."
Facing their demon
Rajini Vaidyanathan, BBC News, Lansing, Michigan
A week of powerful and emotional testimony is nearing an end. By the end of this hearing more than 150 women will have shared their stories of how Larry Nassar abused them - either through written statements, or face to face with him in court.
It as been a tough week for everyone involved in this case - especially those women who have waived their anonymity in court.
I heard a woman sobbing uncontrollably in the toilets during a break in proceedings. I asked her if she was OK, and she told me she'd testified earlier.
It was a reminder - if anyone needs one - of how hard it is for these young women to not only relive their ordeal, but to do so in front of their abuser.
Follow @BBCRajiniV
Two other victims forgave Nassar in court.
"I want you to look at me," said Emily Morales, 18. "I believe in forgiveness, Larry.
"You and I are human beings, we make mistakes. Although you have hurt me, I want to forgive you and feel closure and move on to healing in my life.
"I want you to apologise to me, right here. I want to forgive you, but I also want to hear you tell me that you regret all the hurting that you've caused."
The former Michigan State University doctor said sorry.
Another witness, Christina Barba, said she "had been groomed so well, and abused so slyly" by Nassar.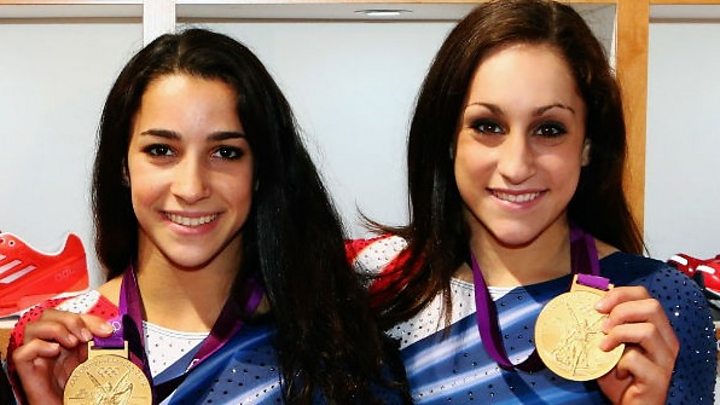 But she added: "I forgive you, Larry, I will never hate you. And I will be praying for you and for all of the people hurt by your actions."
She added: "To all the abusers and enablers and harassers, we will burn your pedestals to the ground."
USA Gymnastics has said it will said they will no longer use the ranch.
Three members of the USA Gymnastics (USAG) board of directors quit on Sunday because of the abuse scandal.
---
More on this case: