Patrick Meehan won't run again for Congress amid accusations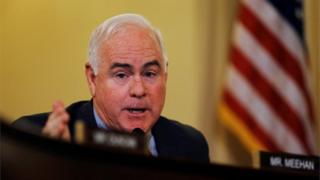 A Pennsylvania congressman has said that he will not seek re-election after it was revealed he used tax funds to settle a sexual harassment complaint.
The Republican allegedly paid the woman, whom he called his "soul mate", but denies the harassment allegations.
Mr Meehan, 62, informed House Speaker Paul Ryan of his decision on Thursday, according to a spokesman for Mr Ryan.
He is the fifth US lawmaker to resign or say he will not run again amid a wave of sexual misconduct claims.
The four-term congressman and former US attorney in Philadelphia faced increasing pressure to resign after the New York Times published a report on the settlement he reached last summer with a former aide three decades his junior.
She alleged that the congressman became hostile toward her when she did not return his romantic interest and began a relationship outside the office, prompting her to leave her post, according to the newspaper.
The married father of three boys denied harassing the woman and contended that she "specifically invited" his intimate communications, which included a handwritten letter about his feelings.
He said he reacted "poorly" when he found out she began a serious relationship with another man.
The settlement, which is reported to be thousands of dollars, was kept secret.
Mr Meehan said he followed the advice of House lawyers and the House Ethics committee guidance when he agreed to the payment.
But he said in a letter sent to his campaign chairman on Thursday, he said that "recent events concerning my office and the settlement of certain harassment allegations have become a major distraction", according to Philadelphia Inquirer, which obtained a copy of the note.
"I need to own it because it is my own conduct that fueled the matter."
The Times report prompted the House Ethics committee to open an investigation into the aide's allegations and potential misuse of official resources.
Mr Meehan had been helping review sexual harassment claims against several other lawmakers before he was removed from the ethics panel, according to the New York Times.
He said he told the aide "that I was a happily married man and I was not interested in a relationship, particularly not any sexual relationship, but we were soul mates".
"I think that the idea of soul mate is that sort of person that you go through remarkable experiences together," he said.