Mort Walker, cartoonist who created Beetle Bailey, dies aged 94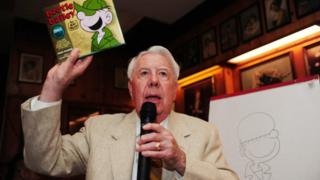 Mort Walker, the creator of the long-running cartoon Beetle Bailey, has died in the US state of Connecticut aged 94.
His son, Greg Walker, said his father had drawn the cartoon of a work-shy army private for 68 years and "he was drawing up to the end".
At its peak, the Beetle Bailey ran in 1,800 newspapers around the world and reached 200 million readers.
It began in 1950 with Beetle as a college student, but he was soon enlisted in the armed forces.
It included characters such as Sgt Snorkle and Gen Halftrack, who existed in the fictional Camp Swampy.
The setting was inspired by Mr Walker's experience in the US Army during World War Two.
In 2000, he was awarded the army's highest civilian honour - the Distinguished Civilian Service award - for his work and military service.
Fellow cartoonist Mark Evanier paid tribute to Mr Walker on his website.
"He was delightful to be around and always willing to draw Beetle or Sarge for any of his fans. He sure had a lot of them," he said.