A new Kennedy in the political spotlight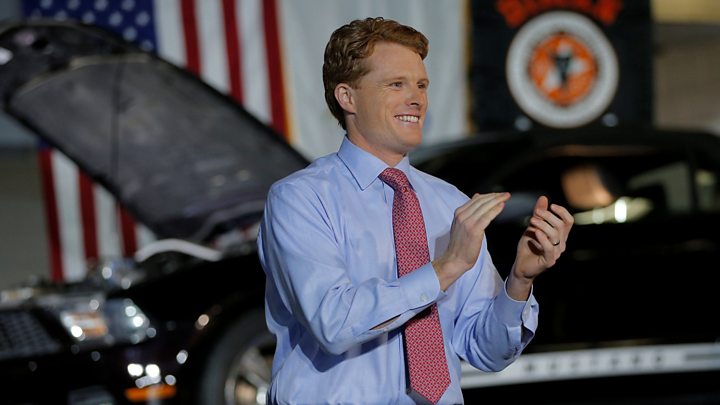 Another member of the Kennedy political dynasty delivered the Democratic response to President Trump's State of the Union speech. But what do we know about him?
He has one of the most famous surnames in US history.
Now US Representative Joe Kennedy III has stepped into the national spotlight as he delivered the traditional rebuttal to the president's State of the Union.
Although well known in Massachusetts political circles, this was the first time Mr Kennedy came to "prime time".
In a speech that had several jabs at the president, he said: "Bullies never win." And in Spanish, he told childhood immigrants who fear deportation because Obama-era protections may soon expire: "You are part of our story."
Some of the reaction to his rebuttal, however, centred on apparent moisture at the side of his mouth.
Republican pollster Frank Luntz compared it to Republican Senator Marco Rubio's case of "dry mouth" during the 2013 rebuttal, when he had to reach for a glass of water.
But in a subsequent tweet, Mr Luntz said of Mr Kennedy that it was "only a matter of time before he takes the national stage".
Where is he in the famous family?
He is the grandson of the late US Senator Robert Kennedy and great-nephew of the late US President John F Kennedy.
And what does he do?
The 37-year-old is currently serving his third term as US Representative of Massachusetts 4th Congressional District. He's been in Congress since 2013.
He lives in Newton, Massachusetts, with his wife Lauren Birchfield Kennedy and children Eleanor and James.
The Kennedys first met in a Harvard Law School class taught by Elizabeth Warren, who is now US senator for Massachusetts.
Prior to serving in Congress, Kennedy attended Stanford University as an undergraduate and spent two years serving in the Peace Corps in the Dominican Republic.
After Harvard Law School, he became a district attorney.
Kennedy is fluent in Spanish, has a twin, Matthew, and is from a family of New England Patriots fans. He has passed that fandom onto his dog Banjo.
How much has the Kennedy name helped in his rise?
"I think, in our area, it has helped him," says Will Richmond, digital and city editor at The Herald News in Fall River, Massachusetts.
"There are some local ties that have carried on for generations. The story is that JFK's wedding cake came from the Fall River area."
While the name seems to have initially helped Kennedy gain recognition, says Jim Hand of the Sun Chronicle, since then he has earned it on merit.
What kind of politician is he?
"He had always been kind of a low-key politician, very low-key, but recently he has become more outspoken," says Hand.
"People in Attleboro would say he has become more eloquent in his speech."
As a member of the House Energy and Commerce Committee, he has focused on advancing the issues of energy costs.
And he has also become an advocate for better mental health treatment, and better science and technology teaching in schools.
"Lately he has been very active in the opioid issue," says Richmond. "Just last week he was the keynote speaker for a capital campaign kick-off here in Fall River."
More on the Kennedy family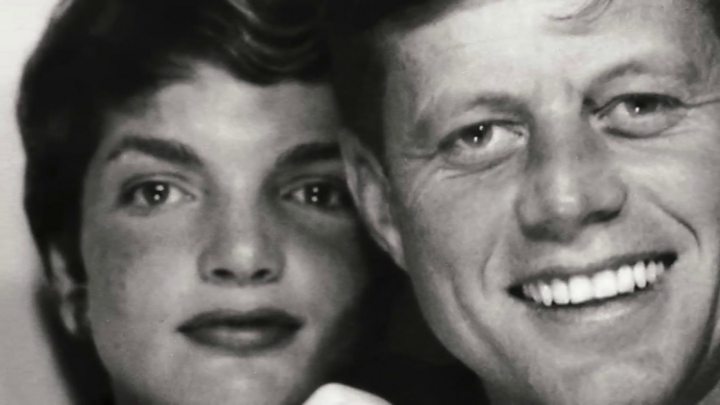 Files on JFK assassination released
JFK assassination: Questions that won't go away
Reporting by Riley Legault