Barry and Honey Sherman: The mystery of the strangled billionaires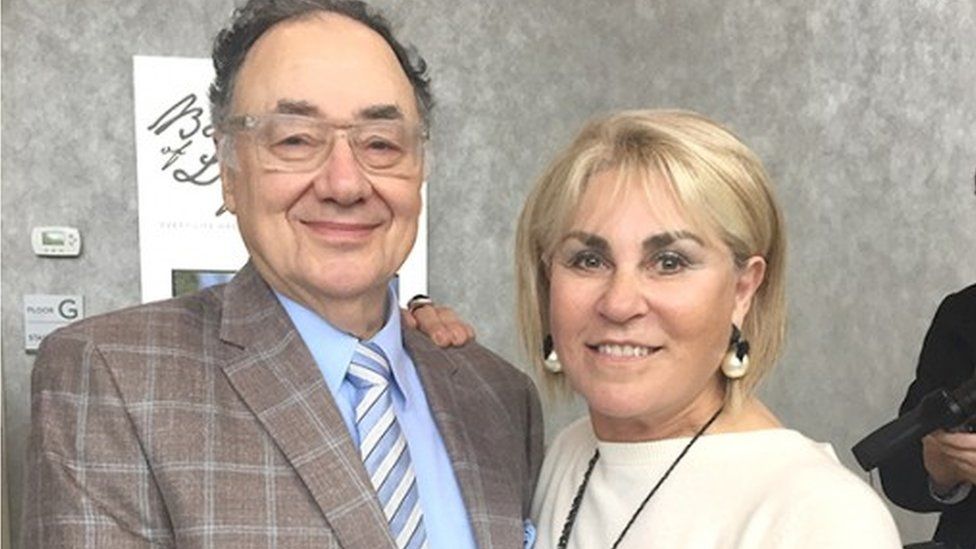 The killing of a wealthy Canadian couple made headlines around the world. Then the news they had been found hanging by men's belts next to their indoor pool, with no apparent motive, deepened the intrigue. So who were Barry and Honey Sherman?
In an unpublished 1996 memoir, Barry Sherman wrote he had "always been very conscious of my personal mortality".
But Sherman thought these memoirs may one day be of interest to others - a "perhaps arrogant belief", he wrote.
Now, the text offers some insight into a couple whose mysterious deaths have captured worldwide interest and left those who knew them grief-stricken and dumbfounded.
In mid-December, 75-year-old Barry and his wife Honey, 70, were found dead in their Toronto home.
Police confirmed this month their death is being investigated as a "targeted" double murder. They were found strangled, fully clothed on the deck of their indoor pool, hanging by belts.
Authorities have so far offered no suspects and no motive for the suspected killings.
More than 10,000 people, including Prime Minister Justin Trudeau and Ontario Premier Kathleen Wynne, attended the funeral.
The turnout was unsurprising - the Shermans had amassed a personal fortune estimated at $3bn. They had touched much of Canada, whether through the impact on Canadian healthcare of Apotex, Inc, the generic drug empire Barry founded, or through the millions they gave away in philanthropy.
At their funeral, their son Jonathon called them "yin and yang".
"They completed a circle that encompassed everything important about what it means to be human," he said. "Neither one perfect but together wholly balanced and exceptional."
Barry was a self-described workaholic, someone who brought business files with him on vacation. He was an ardent atheist, an aggressive businessman and a loving, though often absent father.
Honey was warm, the "magnet and the glue" that held the family together, an inveterate party animal who refused to let a bout of throat cancer or painful arthritis get in the way of either a good time or her charity work.
Honey Sherman grew up in modest circumstances, born to two Polish Holocaust survivors who later emigrated to Canada.
Barry Sherman was born in Toronto in 1942, and though he didn't excel at school early on, it was clear he was a brainy child.
He joined the University of Toronto's engineering science programme at 16 - the youngest ever student to do so - and went on to study aeronautics at the Massachusetts Institute of Technology.
The couple were introduced in August 1970, and married almost exactly a year later.
Where Honey was gregarious, Barry could be aloof and lack in social graces.
At the couple's funeral, Honey's sister Mary said she was unimpressed with her sibling's beau at first sight.
"He was standing at our kitchen. There he was reading the paper, ignoring everyone, being Barry. And all I could think was 'my sister's going out with this? What's the deal?'" she recalled.
"And then over time I saw that he was the most brilliant, wonderful, kind man."
The couple had four children, three through surrogacy after Honey had a series of miscarriages.
The pair depended on each other.
Honey would make sure Barry was dressed properly for events and galas, picking out his clothes down to his socks.
At the funeral, Jonathon remembered his father on a family trip "driving around in a jeep in Israel looking for mom's lost wallet, and her lost keys, and her lost sunglasses, and her jacket too".
"You were like a lock and a key, each pretty useless on your own. But together you unlocked the whole world for yourselves, and for us, and so many others."
The Shermans' philanthropy created an undeniable legacy.
They donated multiple millions of dollars to hospitals, Jewish organisations, universities, and charities like the United Way.
A state-of-the-art research university facility in Toronto bears their name, as does a Jewish community centre campus.
Through its foundation, Apotex has also donated over C$50m ($40m; £28m) around the world, including sending medicine to a children's charity in Kenya.
But the billionaires didn't flaunt their wealth, despite being among the richest Canadians.
Honey told Toronto Life magazine in 2008 the couple "live nice lives, not large lives" and worried about the influence of their wealth on their children, saying they worked hard to instil in them a "sense of reality".
Barry was known to drive cars until they were ready for the junkyard, and met the magazine's reporter at the Apotex headquarters wearing a wrinkled shirt and "well-worn trousers".
"[Barry] didn't care about things - making money was a way of keeping score," says Murray Rubin, who was friends with Barry for some 50 years.
Rubin calls Barry the smartest guy he ever knew.
He learned the drug business from family, working at his uncle's pharmaceutical company before founding Apotex in 1974.
The generic drug-mogul also earned a reputation for using the courts freely to build his company and defend his business interests.
Apotex has been involved in more than a thousand court cases in Canada, using the legal system to aggressively challenge drug patents.
"It definitely makes it the most litigious pharma company in Canada and probably the most litigious company period," says University of Ottawa law professor Amir Attaran.
"It's fair to observe the way he did business he would have had many enemies," he says.
Canadians pay some of the highest prices in the world for generic drugs, and Attaran argues Sherman's business practices contributed to that.
"He was unethical in business. His drugs were overpriced and gouged Canadians," he said on Twitter.
Apotex did not respond to a request for comment.
Rubin says his friend was "as a person, very gentle. As a businessman, very tough".
Barry was also involved in a couple of long-running, very public conflicts.
In the 1990s, Apotex became embroiled in a high-profile and protracted dust-up with a haematologist at Toronto's Hospital for Sick Children over negative research results related to one of the company's drugs.
When the researcher, Dr Nancy Olivieri, said she needed to disclose the risk to patients involved in the trials, Apotex, which disputed the results, pulled the trials and threatened legal action if she divulged those potential risks.
She did anyway. Sherman was later recorded calling her "nuts" when discussing the case with CBS's 60 Minutes.
In September, he scored a victory in another lengthy feud, this over a group of cousins who alleged he breached an agreement that entitled them to a 20% stake in Apotex.
An Ontario Superior Court judge dismissed the C$1bn lawsuit, though that ruling is being appealed.
The acrimonious battle, which played out in court and in the press for over a decade, included Sherman suing the cousin who spearheaded the fight to recover some C$8m in loans.
Rubin says while Barry was tough, he can't comprehend who would kill him and Honey with such "hatred".
"I can't believe that my friend Barry... would die in this horrible way," he said. "The riddle is - who did it and why?"