State of the Union: Four reactions to Trump speech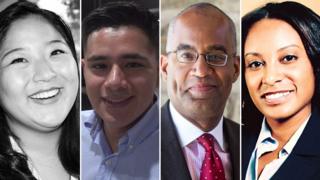 President Trump's first State of the Union speech left some in the room applauding and others seething in silence. But what about beyond the walls of Congress?
Four people from across the political spectrum gave their instant reactions.
'Unifying spirit'
It was quite a night.
Overall, I was pleased with the tone and energy that the president was putting out tonight. The president had a nice unifying spirit tonight.
Being such an unpredictable character I was worried he would get unprofessional or go off the rails, but he maintained presidential leadership qualities throughout the speech.
I felt he kept it positive and very unifying for the most part.
I was moved by Seong-ho's story [he escaped on crutches after being tortured in North Korea].
I was born in Seoul, South Korea, and if I had been born 50 miles to the north I could have been in his situation. I definitely think that dealing with North Korea is an issue that we have to address as Americans and work to resolve.
I didn't approve of Trump calling Kim Jong Un "Little Rocket Man" on Twitter, but I like that he's taking a harder line with North Korea.
I was not super pleased that he harped on infrastructure for as long as he did. We have to address healthcare first.
- Annamarie Rienzi, student and Trump supporter
'Divisive and coded language'
I thought the speech was very divisive. He was speaking only to Republicans and used a lot of rhetoric. He did a very good job in giving us a history lesson and the personal testimonies were very moving.
But in speaking about the great Americans in the room and their sacrifice he pivoted from the fact that he hasn't been able to push through any major legislation aside from tax cuts.
He distracted us from the Mueller investigation and his threats to go to war with North Korea.
I would have loved for him to talk about more how he's going to make the lives better for the average, working family.
I was very disappointed in his use of coded language. For example, when he talked about religious liberty, that's code for anti-LGBTQ policies.
When he talked about the importance of standing for the national anthem that's code for being against movements to end police brutality. When he talked about clean coal, that's anti-clean water and anti-environment rhetoric.
I do like that he spoke of the infrastructure bill and that he said he supported paid family leave. I would want to know more specifics. It was also noteworthy that he talked about giving former inmates a second chance.
He shouldn't have tried to take credit for lowering the unemployment rate for African Americans and Hispanics when he's passed no major legislation to make that happen. It was Obama that did that. He also did not address school shootings, which are an epidemic in this country.
The tone was not positive in any form or fashion, but he was smart in keeping it toned down and not being the "over the top" Trump that we're used to.
- Jennifer Carroll Foy, Democratic politician in the 2nd district of the Virginia House of Delegates
'Refreshingly conciliatory'
There are few events in American political life that contain more pomp and grandeur than the American State of the Union Address.
Beyond the theatrics, many wondered before the speech what tone and tenor Trump would utilise.
Many expected a bombastic Trump given his proclivity to lash out on Twitter. Tonight, he sought to talk about the strength of America and her people at the outset.
He took a victory lap discussing the American economy and lowered unemployment levels while wages continue to grow. His tone was refreshingly conciliatory for most of his remarks.
For me, I was disappointed to see members of the Congressional Black Caucus refuse to stand when the president noted black unemployment is the lowest on record for 45 years - an accomplishment that supersedes party. Democrats largely sat on their hands and even jeered during Trump's remarks on immigration.
All in all, a good speech by the 45th President of the United States when his supporters and detractors alike weren't sure what he would do.
- Ron Christie, former adviser to George W Bush
'He made immigrants seem like criminals'
It was a very negative speech regarding immigration. I felt he was concentrating on the criminals and not how we contribute to the country.
He went on to talk about how he would like to see Democrats and Rrepublicans find a solution and come to an agreement, which they had already done but by the time it was presented to him, Trump turned it down.
He also said he wanted to protect Americans, but we also consider ourselves Americans.
This is a nation of immigrants. He spoke as if immigrants were a problem and not a solution to benefit this country. He did not mention how much we love this country and want to protect it.
There are undocumented immigrants who want to join the military, others who want to contribute in different ways, from being teachers, lawyers, doctors, and even business owners.
All the immigrants came to this country for a prosperous life. They want to provide a better future for their families. Trump did not mention any of that.
I feel this speech was not positive and only made immigrants seem as criminals.
- 'Dreamer' Francis Tume in Miami, 24, brought to US illegally from Peru aged six