State of the Union: Trump calls for unity but divides media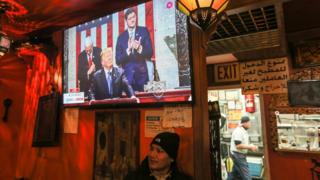 President Donald Trump's call for unity was a dominant element in his first State of the Union address, but it nonetheless sparked a predictably divided response in the US media.
The New York Times said the speech was "characteristically brazen" but lapsed into "dishonest" rhetoric about immigration and terrorism.
But the newspaper said the state of the union was strong because of how Americans were reacting to Mr Trump's presidency and he deserved "backhanded gratitude" for that.
"Have a president's words ever rung more hollow?" asks the Washington Post, describing the address as "divisive and misleading". It said the speech offered little reason to hope Trump's second year "would be more constructive than his first".
The LA Times said Mr Trump had struck a "softer tone" but still delivered his "familiar appeal to fear and resentment". It said he had used "offensive language" to promote his immigration policy and his calls for good-faith negotiations would be met with "deep and deserved scepticism".
The Chicago Tribune said the address was "noteworthy for basic restraint" but said the US was "too politically fractured" and Mr Trump "too divisive" for it to "bind the wounds of the previous election". It said Mr Trump's promises to work with Democrats were not enough - "the country needs results".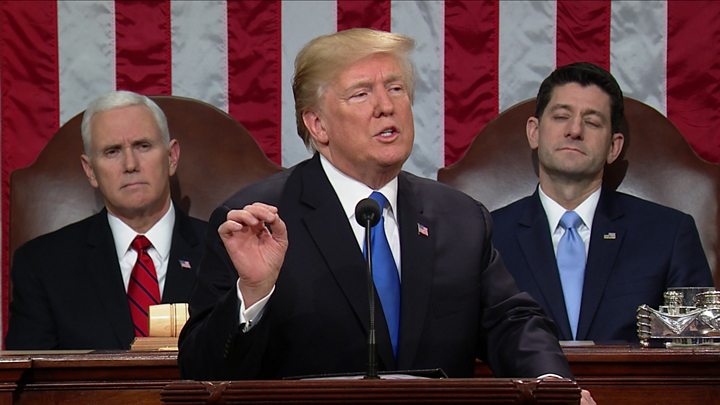 Fox News commentator Douglas Schoen said the "more optimistic" speech was a "welcome, important and essential" attempt to broaden Mr Trump's appeal beyond his base. It was now up to Mr Trump to "actually honour these words" and not to resort to his familiar "divisive, hardline, bombastic rhetoric", he said.
Meanwhile in another piece, Liz Peek said the speech "delivered more drama, passion and feel-good patriotism than his critics in Tinseltown delivered all year".
Politico commentators John Harris and Matthew Nussbaum said Mr Trump had invited people to "imagine an alternate universe" in which he had not spent a year "compulsively lashing his opponents and taking steel wool to the country's cultural, ideological and racial wounds".
He "decided to dial it down" in the face of low approval ratings, wrote Andrew Restuccia in another piece - "but it's anybody's guess how long it will last".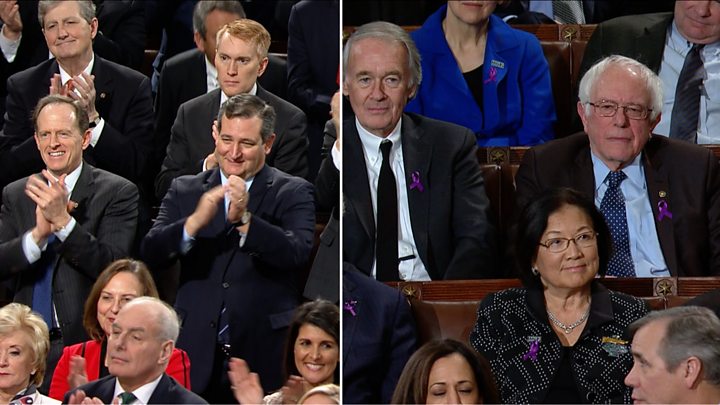 The Miami Herald said Mr Trump had "played the role of statesman" but it "remains to be seen if he'll stay in character". His call for national unity "sounded sincere", the newspaper said, but if he did not exemplify that unity himself it would come across as a "callow ploy to rope in sceptics".
The Washington Times said Mr Trump "commanded the dais" as he "laid out his administration's accomplishments" and described his offer of a path to citizenship for so-called Dreamers as a "generous amnesty".
His big opponents, Democrats Charles Schumer and Nancy Pelosi, were "reduced to dour expressions" as Mr Trump spoke, the newspaper said.